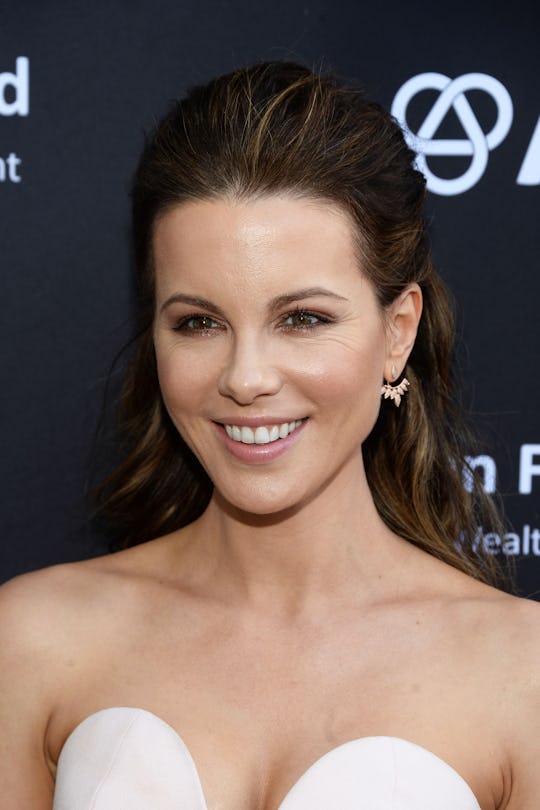 Matt Winkelmeyer/Getty Images Entertainment/Getty Images
Kate Beckinsale's Back-To-School Instagram Tribute To Her Daughter Lily Is Total Nostalgia
For a lot of moms, the first day of school is bittersweet. On one hand, it's exciting, ushering in a new chapter of independence and growth for their kids (and maybe even some blessed down time at home for themselves). But on the other hand, there's nothing that will remind them as clearly that their precious babies are growing up way too fast than that first day of school photo — particularly if their "babies" are now gearing up for their senior years of high school! Kate Beckinsale's back-to-school Instagram tribute to her daughter Lily definitely exemplified all of those sad/sweet feelings, as the actress celebrated her daughter's "last first day" of school Tuesday by comparing a current photo with one she took of her daughter on her very first day ever.
In the sweet post, an excited, young Lily can be seen in a powder blue school uniform on her very first day of school, compared to a now-grown-up Lily in black jeans and a white t-shirt obliging her mom with a photo prior to heading off for her final first day ever, according to TODAY Parents. In the caption, the British actress wrote, "First first day of school/last first day of school. Love you so much @lily_beckinsale." And, well, it was kind of the sweetest thing to ever exist.
This isn't the first time though that Beckinsale has posted something adorable and awesome about her family life. In fact, her Instagram feed is full of cute and hilarious snaps and stories about all sorts of things — and from the looks of it, a good sense of humor definitely runs in the family. According to The Daily Mail, Beckinsale, Lily, and Lily's dad (Beckinsale's ex Michael Sheen), opted to recreate a special family photo in honor of Lily Sheen's 17th birthday back in May, although it wasn't exactly the kind you might expect. In another side-by-side Instagram post, Beckinsale shared a photo from 1999 of the three of them in the hospital the day that Lily was born, and next to it, a hilarious updated 2016 version, with Lily doing her best "sleeping newborn" impression cradled in her mother's arms.
And if there was still any doubt that Beckinsale is hilarious and also the best, then there was also the time she uploaded a photo to Instagram of herself dressed as a giant penis (no, I am not kidding):
According to Us Weekly, Beckinsale explained in an 2012 interview with Conan O'Brian that despite appearing to be a delicate, refined, English rose, she's actually a big fan of penis humor:
I do like a penis joke. Right? Doesn't everybody? Especially when you're on a holiday. Whenever I visit my mother's house, I always have to leave a banana and two apples or whatever fruit she has. It's nice we have a family tradition, and ours is penis-based.
And she wasn't kidding about the family tradition! On Friday, the actress posted a video of her mother wearing the same penis costume, having a hilarious freak out after seemingly realizing she'd been locked out of her hotel room. Amazing.
Lily's last first day of school might be a huge milestone marking her impending adulthood, but if her mother's social media presence is anything to go by, it seems pretty reasonable to assume she'll be just fine. With both her parents (and her grandmother!) appearing to be pretty skilled at not taking life too seriously, chances are they've taught Lily how to roll with the punches. And that's a skill that will definitely serve her well as she grows up.