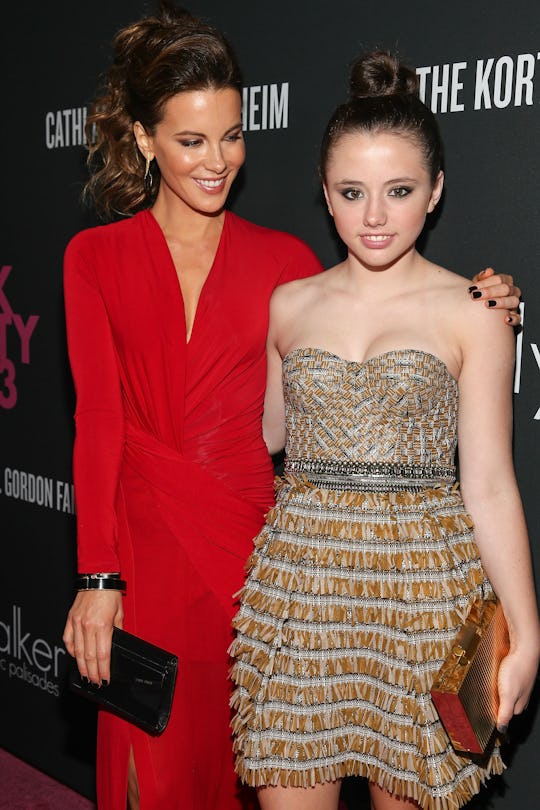 Imeh Akpanudosen/Getty Images Entertainment/Getty Images
Kate Beckinsale's Daughter Got Into College, & Her Reaction Is Heartwarming
Parents are a kid's greatest cheerleaders and when Kate Beckinsale's daughter got into college it made everyone smile because her and Michael Sheen's reactions shows just how proud they are for their 17-year-old daughter, Lily Mo Sheen. The British actress posted the heartwarming moment on Instagram, and in the side-by-side photo her ex-partner is lifting and hugging Beckinsale and Lily up in the air and you can feel their excitement.
"The appropriate fatherly response when you find out your girl got into college: burst into tears, drop everything, rush over and pick up everyone even remotely involved," the Love & Friendship actress and proud mom wrote on Instagram, adding that they are "are so unbelievably proud" that their daughter got accepted into college. She concluded the post with five red heart emoji, encouraging Lily to "Fly fly fly."
Beckinsale and Sheen dated from 1995 until 2003 — welcoming their first child, Lily, in January 1999 — and have maintained a cordial relationship. And this latest post isn't the first time the friendly exes have shown that they have been able to make co-parenting work with a blended family.
According to People, the 47-year-old actor and activist and his current girlfriend, actress and comedian Sarah Silverman, have been dating since 2014 and Beckinsale "love[s] her."
In fact, Beckinsale thinks Silverman is a great influence on her daughter. In an interview with Stylist, she said:
I'm completely open to any other strong, cool sensitive independent-thinking women who are going to be an influence in my daughter's life. Sarah's a great person and I'm glad she's in the village that's helping. It's important as a teenager to have good women in your life building up the fabric of your experience of becoming a woman. Even if Sarah wasn't Michael's girlfriend I'd want her to be in that.
Beckinsale added that while her and Sheen's relationship may not be the norm for every couple that separates, she doesn't think of it as a huge achievement. She continued in the same interview with Stylist:
I don't know why everyone was so surprised. Sarah's such a fantastic woman, I love her and Michael and I have gotten on for years now. I've known him since I was 22, we're basically family. The thing that surprised me was what a big deal everybody made about us all getting on and then thinking, 'F***, that's really sad if it's that unusual.' I don't think any of us were thinking, 'This is a huge achievement we're not punching each other.'
And this most recent post certainly isn't the only time Beckinsale and Sheen have used humor on social media to show how well they get along. Back in May, for example, the friendly parents got pretty nostalgic to commemorate Lily's 17th birthday and re-created a family photo from the day their daughter was born
"Always a baby to me," Beckinsale wrote on Instagram of the epic throwback.
While it may not work for everyone, Beckinsale and Sheen's heartwarming reaction to this amazing and big news is another example that a break up doesn't have to mean that co-parenting has to part ways as well. So if you're ever in doubt, scroll through her Instagram feed because something on there will likely make you smile, just like this sweet family moment.