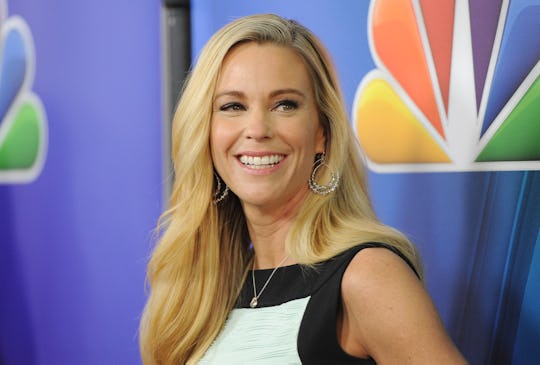 Angela Weiss/Getty Images Entertainment/Getty Images
The Gosselin Sextuplets Are Now In Eighth Grade, Believe It Or Not
It doesn't seem that long ago that Kate Gosselin was raising sextuplets and a set of twins with her husband, Jon Gosselin, on the TLC reality show, Jon & Kate Plus 8, and since the family hasn't spent a ton of time in the spotlight since their original show ended following Jon and Kate's 2009 split, it's easy to forget that their eight children aren't *actually* little anymore. On Thursday, Kate Gosselin posted a back-to-school photo of her kids that she took before they left for their first day back, and if you've been following the family since their early days of reality TV? You might want to brace yourself.
Kate shared the pic on her Instagram account, and while the first day back always feels like a big event, it looks like this year was particularly special. Because while the sextuplets were actually beginning their first day of eighth grade (!), the twins, Cara and Mady, were heading off for their first day of senior year (!!!). Six of Kate's eight children posed together on the family's front door step, with the two older girls in the back with their brother, Aidan, while Joel, Alexis and Leah stood in front, and they're definitely all grown up.
In the photo's caption, Kate lamented the end of summer vacation, and wrote, "Feels like school never ended...and they're already back!" She also included a second photo, showing two, sweet handwritten notes she left for Cara and Mady, letting them know how proud she was of them on their "last" first day of school. The photos were adorable, and also pretty relatable (it's *so* bittersweet to watch your kids get older). But one thing she didn't acknowledge though? Why two of her eight kids were actually missing from the back-to-school send-off.
Some of Kate's followers picked up on the fact that neither Collin nor Hannah were in the photo, and it seems like their absence might shed some light on the former couple's recent comments about their seemingly-tense custody arrangement.
Nearly a decade on from their split, it seems that the relationship between Jon and Kate remains incredibly strained, but things don't appear to be so great between Jon and his children, either. In 2016, Jon told Entertainment Tonight that he hadn't seen all of his children together "probably in three to four years," and said it was like he'd "been totally estranged from [his] kids."
In a recent Instagram Live video captured by Radar Online though, Jon claimed that Hannah — who has shown up a fair bit on her dad's social media accounts as of late — now "permanently lives with [him]." As for Collin? In 2016, Kate revealed to People that her son had "special needs," and that she decided to enrol him in a residential program to help him "learn certain strategies to help him deal with things." In May, Jon posted a photo of himself with Collin and Hannah, and wrote, "Glad I could celebrate my son Collin's 14th birthday with him and his sister!"
It's not entirely clear whether Hannah does currently live with her dad —  on Tuesday, People claimed that a source close to the family confirmed that Kate "maintains full custody of all eight of her kids" — though it does seem reasonable to assume that Collin still lives away from home. And, off course, given how many years have passed since their original reality show, it probably shouldn't really be a surprise to see that they've grown up. But if there's anything that can make a reality TV fan feel super old? It has to be seeing a photo of the Gosselin twins heading into senior year.