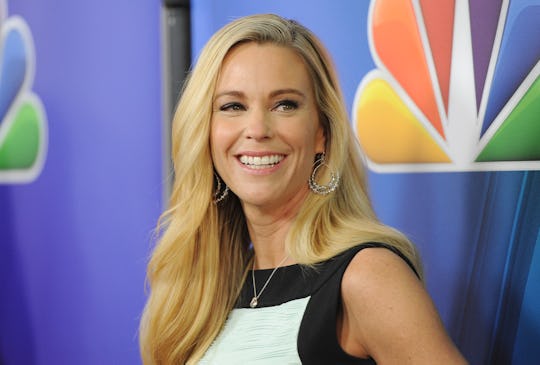 Angela Weiss/Getty Images Entertainment/Getty Images
Kate Gosselin Is Getting A Dating Show, & The Name Of It Is Too Perfect
Fans of Jon & Kate Plus Eight, and later, just Kate Plus Eight, get ready to dive into a new stage of life with the famous mom. Kate Gosselin will return to TV in a new dating show and she's inviting fans to follow along on her quest to find love. She has an idea of what kind of man she's looking for and her kids are on board as well.
Roughly eight years since finalizing her divorce from now-ex-husband Jon Gosselin in December 2009, Kate discussed her plans to re-enter the dating scene with People. After 10 years of marriage with Jon, she told the outlet that she is feeling both nervous and excited to start looking for a new partner. "I'm forcing myself to do this," she said of her new TLC show, Kate Plus Date.
The new show comes in a period of change for Kate. In the fall of 2019, her two eldest children, 17-year-old Mady and Cara, will be heading off to college. Five of Kate's 13-year-old sextuplets — Aaden, Joel, Alexis, Hannah, and Leah — will be staying at home, while son Collin is away at a facility for special needs that aims to "help him reach his full potential," according to People. With her kids growing up, Kate is looking toward her own future.
Her kids, too, are worrying about who will be there for their mom once they're out of the house, according to TODAY. Kate said as much in her interview:
But it was very apparent, now that they're older and talking about dating and how they're all gonna get married someday … it became apparent: they want someone for me. They want me to have somebody in my life.
Part of her return to dating is a return to self care, Kate said, according to TODAY:
I stopped focusing on myself — I used to be a runner, and all of these things sort of fell by the wayside, and I sort of forgot about the dating thing. It's never really fit into my life.
Dating is a bit more complicated for Kate than the average divorcee. Her divorce from Jon, like much of their relationship, was highly publicized. The two told very different stories as to why their marriage ended, In Touch Weekly reported, and the media covered their split extensively. For this reason, Kate explained that using a dating show is her best bet to find love. Online dating is out, since any potential suitor will judge her as soon as they see her photos. She's a bit creeped out by the idea of going out with a complete stranger and likes the idea of the show because it's "safe," she told People:
If I'm going to date someone, I can't just go out on a date — it's creepy to me to think of just going out somewhere with some stranger, and so I actually feel like doing it like this is the best and safest way for me to go on a date — a camera crew will be there! I'll be safe! And the person will have been vetted by a matchmaker.
Not just anyone will make the cut, though. She wants someone with a career, "their own life, their own agenda," and a strong sense of self, according to E! News. She's also interested in someone with a career that requires travel so that she can still have some time on her own. Oh, and her suitors "must love dogs." That's a deal breaker, obviously.
Along with forming a strong bond of her own, Kate is looking for a man who will one day form a relationship with her children. While they "won't be [her] kids' dad," she envisions her future partner as a friend and confidante to them. "It would be great for my kids to have someone they can feel like is a real friend," she said, according to Entertainment Weekly.
Finding love is never easy, but it sounds like Kate knows what she wants. Her new show will air on TLC this fall.