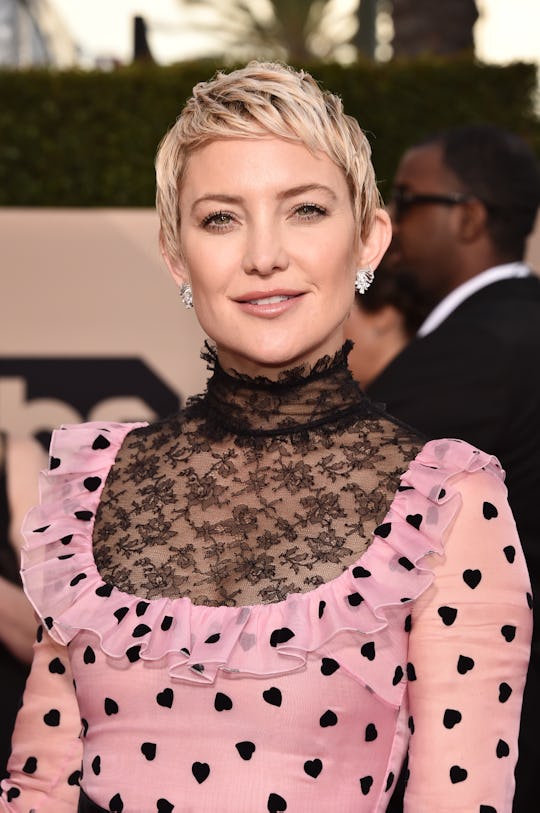 Alberto E. Rodriguez/Getty Images Entertainment/Getty Images
Kate Hudson Announces She's Pregnant With Her 3rd Child In The Most Adorable Video Ever
There's a new celebrity baby on the way, Hollywood fans. On Friday, Kate Hudson announced she's pregnant with her third child in the cutest video announcement ever, and it really showed off just how excited she is to have another baby. She has two sons already, but it sounds like this time around, her family will be adding a little girl to the mix.
In an interview with The Times in late March, Hudson said she is up for having kids with her boyfriend, Danny Fujikawa. She already has two sons from prior relationships, according to E News, but this will be her only daughter — at least for now. Her kids Ryder Robinson and Bingham Bellamy are both well out of the baby years, and Hudson has made it clear pretty recently that she's interested in having another baby, and in possibly having even more kids after this new little one arrives.
Hudson has a brother, Oliver, who is also an actor, as well as a half-brother — Wyatt Russell — and a stepbrother, Boston Russell, according to The Daily Mail. Between all of them and her own kids, there are already plenty of boys in Hudson's family. So it's probably especially exciting that she is expecting a girl with this pregnancy.
Hudson posted what seems to be a video from a gender reveal party to her Instagram account on Friday, where she visibly has a slight "baby bump" and is obviously the expectant mama at the event. Further down in the caption of the post, she wrote that "We have been trying to keep this pregnancy under the radar for as long as possible but I'm a poppin now!" Hudson also explained her relative silence on social media lately to her followers in the caption, where she wrote:
If you've wondered why I've been so absent on my social channels it's because I have never been more sick! It's was the most sick first trimester of all my children.
It doesn't sound fun at all, but she certainly seems to be in high spirits anyway if the excited screaming in the video is anything to go by.
Hudson talked about how she would specifically like to have a daughter in the future in the interview with The Times, where she reportedly said of having more children:
I'd like to! I'm not done yet. A girl would be fun.
We'll see. We'll see how many Danny wants.
And considering that that was so recent, Hudson likely already knew that she was pregnant, but might not have known that she would get her wish to welcome a girl after all.
Hudson ended the post by writing, "My kids, Danny, myself and the entire family are crazy excited! A little girl on the way 💕" And if you take a look at the responses she got on the video, her fans are clearly extremely excited for Hudson, too.
Most of the replies included a "congratulations!" and some form of emoji, but others expanded on their excitement for the actress and her family. "Enjoy your pregnancy!!!" one reply said, and another person wrote, "Such a beautiful moment!!! So happy for you all!"
The moment really was beautiful to witness, and Hudson's fans are definitely fortunate that she chose to share such an adorable experience with the world. Hudson — along with what appeared to be several of her family members — popped balloons that exploded into pink confetti and more balloons (also pink) in a yard in the video, and honestly, that seems like a really fun way to find out the sex of the baby you're expecting.
Hudson has reportedly known Fujikawa since she was 23 and "enormously pregnant" with Ryder, according to People. But they only started dating fairly recently — in fact, they celebrated the one-year anniversary of their first date back in December. They've apparently run in the same social circle for many years because Fujikawa's stepsisters, Sara and Erin Foster, are two of Hudson's best friends, People reported. That's definitely one great way to meet a partner that you already know you'll get along with pretty well.
Hudson is obviously super excited to welcome this newest addition to her family, if the video she posted is any indication. She'll also be making her famous mom — Goldie Hawn — and her mother's partner, Kurt Russell, grandparents again when the baby arrives. That little girl is going to born into a really loving, blended Hollywood family, and she's very lucky indeed.