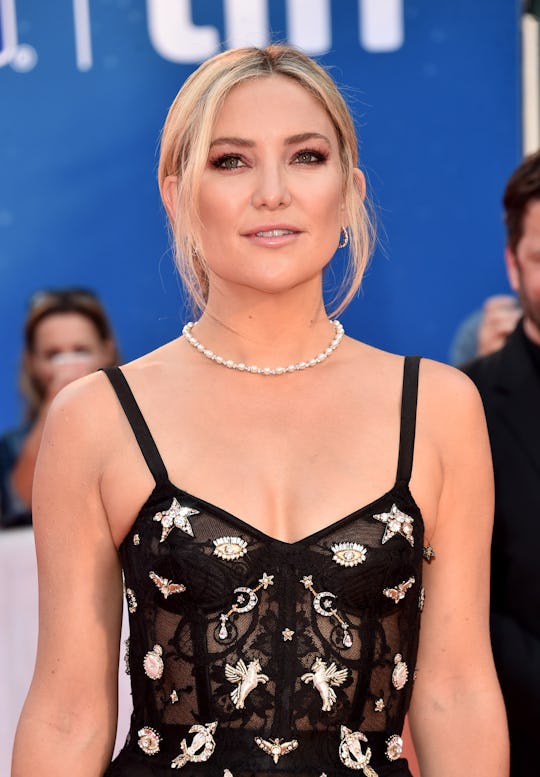 Alberto E. Rodriguez/Getty Images Entertainment/Getty Images
Kate Hudson Quotes About Her Postpartum Body Are Super Relatable
Kate Hudson seems like that woman that every other woman wants to be friends with. She's pretty and cool, but also super talented and entrepreneurial. All it takes is one Fabletics commercial to make me feel like I could totally be going for runs, doing yoga, and biking every day like Hudson. Actually, she's so laid-back and carefree in those commercials that I almost forget she's a mother to two boys, Ryder and Bingham. But Hudson isn't just relatable as a woman, she's relatable as a mom. She's spoken publicly about motherhood, single parenting, and of course, her oft-discussed post-baby body, according to BuzzFeed.
The actress has worked to dispel the myth that new mothers can just drop the pregnancy weight without working hard. She's also talked about how difficult it is to stay consistent in exercising and how emotional the postpartum process can be. And with tabloids and paparazzi following her everywhere, she has definitely felt the pressure to lose the extra weight — and keep it off.
The Glee star told E! News that gaining a ton of weight during her first pregnancy was a huge shock.
I was always athletic and I was always very active, so I never had that experience of putting on that kind of weight. When I did, it was like, 'Oh, wow. Here's that moment where you have to push through it is really emotional.' You get down on yourself. You get discouraged.
She also mentioned that staying consistent in her workouts everyday was really tough, but she would have to do it for work. "You don't change anything – you just have to push through it," Hudson said. "That's the hardest part."
The Fabletics owner confessed to Yahoo Lifestyle that she was self-conscious about her weight compared to her friends during pregnancy. She was heavier and definitely noticed.
Some women have that metabolism where you're like, 'Wow, you didn't even gain any weight being pregnant.' Well, that's not me, and a lot of women probably relate to that. I gained 70 pounds.
Hudson said the struggle was so real to control her eating during pregnancy, but that there was really nothing wrong with eating however she liked.
There's nothing to be ashamed of when you blow up. I would be eating ice cream, and my mom would literally pry the spoon away from me, saying, 'You've had enough to last you a lifetime!'
Well, that's definitely something we can all relate to.