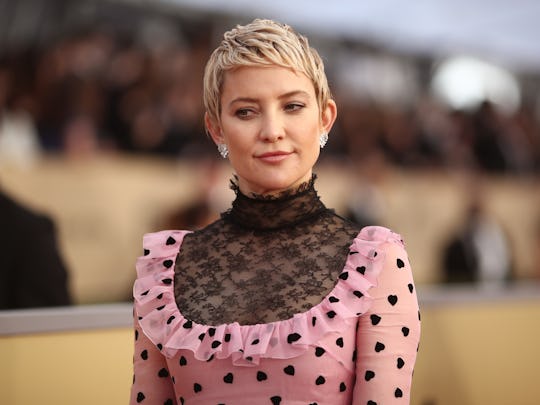 Christopher Polk/Getty Images Entertainment/Getty Images
Kate Hudson Shared The *Sweetest* Photo Of Her Pregnancy Bump... With Steven Tyler!
Kate Hudson is so busy these days. In addition to being pregnant, she's a mom of two, a fashion designer with her own line of athletic wear, an author, and an actress. But she took time out for friends this weekend, and on Monday afternoon, Kate Hudson shared a photo of her pregnancy bump, standing with the one and only Steven Tyler. And, honestly, it's the sweetest thing you'll see all day.
Hudson has been friends with Tyler's oldest daughter Liv since the two were children, so it's not strange at all for the Aerosmith frontman to celebrate her baby news. And it's adorable to see the rocker looking so moon-eyed standing with the expectant mama. In the photo, he has his hands wrapped around Hudson and placed on her bump while he looks into the camera, clearly smitten with the baby-to-be already. He's a granddad in his own right — apparently he goes by "Papa Stevie" with his grandkids — but, given how happy he looks in this pic, I have to suspect he loves on Hudson's kids when he gets the chance.
Hudson looks gorgeous and happy to be surrounded by the love of close friends. She captioned the post with Tyler, "Baby girl got some good hugs from Papa Tyler this weekend" and tagged both Tyler and his daughter Liv. There's no mention whether Liv was there to celebrate alongside her longtime friend, but somebody had to snap the pic, so it's not inconceivable she was behind the camera.
The How To Lose A Guy In 10 Days actress had been a little less active on social media lately. But, in a post on Instagram last week, she explained that the lack of updates was due to her morning sickness while also confirming her pregnancy and the baby's sex (a baby girl!). She explained in the post that this pregnancy has been the most difficult of her three, and that some aspects of social media — like Boomerang and Superzoom — have just been too much for her rocky stomach to handle.
But now she's "broken through to the other side," as she explained in the same post, and is ready to celebrate her new baby with the world and get back online. She commented that she and boyfriend Danny Fujikawa have tried to keep the pregnancy low-key, but now that she's starting to show it's just easier to let everyone in on it. And she really did let people in on it!
The post shares a touching, personal moment in a video with herself, her two sons, and Fujikawa popping balloons to reveal pink confetti which was greeted with cheers and hugs.
She must be feeling a lot better now because her next post showed that she'd jetted off to Hong Kong to be part of the ribbon cutting ceremony on a new Harry Winston store. She looked glowing, adorned with jewels and in a lace trimmed black dress that just barely showed off her pregnancy bump.
Hudson revealed more about her sickness in an Instagram post from early in her pregnancy during a shoot for her athletic clothing line, Fabletics. While she looks strong, balanced on a wheel doing leg lifts, she wrote that all she wanted to do was go to bed and stay near a bucket. She hashtagged it #TheSilentMonths, presumably referring to the days before she announce the pregnancy. She followed it with a gif of herself in her pool showing how she's staying fit herself while growing her pregnancy bump.
This baby will join Hudson's two sons, Ryder, 14, from her marriage to Chris Robinson, and Bingham, 6, from her relationship with Matthew Bellamy, according to Harper's Bazaar. The magazine explained that Hudson and Danny Fujikawa have been together for a year after being friends for over a decade. They were introduced by mutual friends and that he's a former musician.
It's great to see Hudson getting back to social media, but it's even better to see that she's surrounded by friends and having a healthy and happy pregnancy with her daughter-to-be. Given the updates thus far, one can only imagine how sweet and epic her birth announcement will be. Who knows, maybe Aerosmith with help reveal the news?
Check out Romper's new video series, Bearing The Motherload, where disagreeing parents from different sides of an issue sit down with a mediator and talk about how to support (and not judge) each other's parenting perspectives. New episodes air Mondays on Facebook.