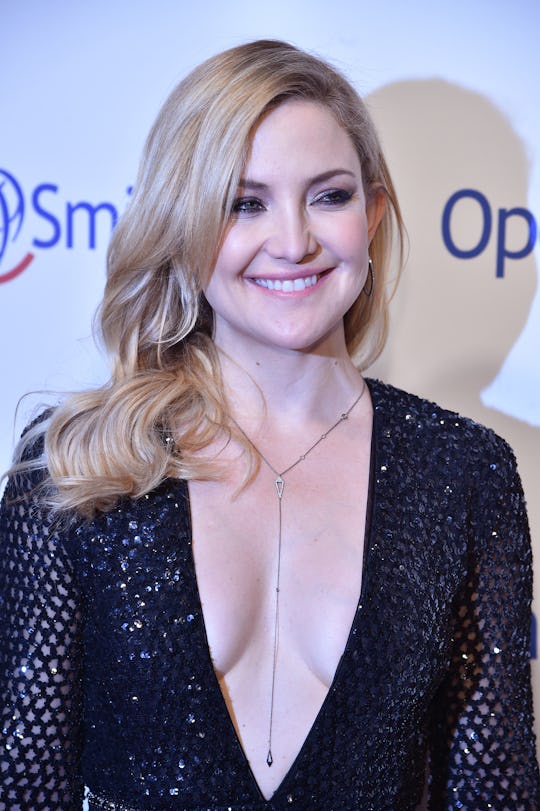 Dimitrios Kambouris/Getty Images Entertainment/Getty Images
Kate Hudson Snapchats Her Son Doing Her Makeup & It's Adorably Fun
Red carpet makeup artists may have found some potential, but totally adorable competition. On Friday, Kate Hudson let her son do her makeup and captured the entire adventure on Snapchat. The process is too cute for words — beginning with a sweet cuddle session and finishing up with the 37-year-old mom completely ecstatic with the colorful results. The Almost Famous star's five-year-old son, Bingham Hawn Bellamy, surely seems to have a knack for cosmetics.
After applying blush to his mom's cheeks, Hudson posted the first shot of the story on Snapchat. "Someone wants to do my makeup," Hudson captioned the photo of her with rosy cheeks and continued to document the fun day.
Next, Bing — as the mom-of-two cutely calls him — chose a pinkish purple powder and applied it to Hudson's cheeks with his finger. "I love that color," she said as he dabbed it on.
Moving on to the cosmetic tools, Bing applied makeup to a blush brush. "Hi, I didn't put too much on the brush," he says to the viewers, making sure they know his mom is in good hands.
But, then the tot proceeds to gently slap Hudson's cheeks with the brush. "I like the slapping technique," Hudson said, while giggling. "It's like a new thing."
Next up: Eye shadow. "Oh pink, that's going to be good," Hudson said as Bing chose from a large pallet of colorful powders. She then asked, "Where do you put it?"
"On the eyes," a very focused Bing responded.
While most might have kept it simple and stopped with pink, that's not how five-year-old boys think — Bing proceeded to add silver and blue eye shadows and liners to his mom's eyelids and eyebrows.
"Silver and pink — dope colors," Hudson said, but was a little hesitant about how the blue would mix into everything. "Blue's gonna be interesting…"
The result: Adorable and possibly inspired by a shimmery galactic, space theme.
"That's good — that looks really… that's very modern," Hudson said as she examined the end result. "Cool, look at that. What do you think?"
"I like it!" Bing happily replied.
Having a final look in the camera at the outcome, with complete liner and gloss, Hudson said, "Oh Bing — that's really cool." Then, jokingly added, "I don't know, I think we should go to Burning Man. You can be my makeup artist."
People on social media also seemed to love Bing's work, just as much as they loved Hudson's fun spirit:
Finally, Hudson showed the world just how happy she was with the results and continued to post videos of her lip-syncing and dancing along to "Sweet Dreams (Are Made of This)." The 1983 Eurythmics' hit perfectly fit the theme of Bing's masterpiece.