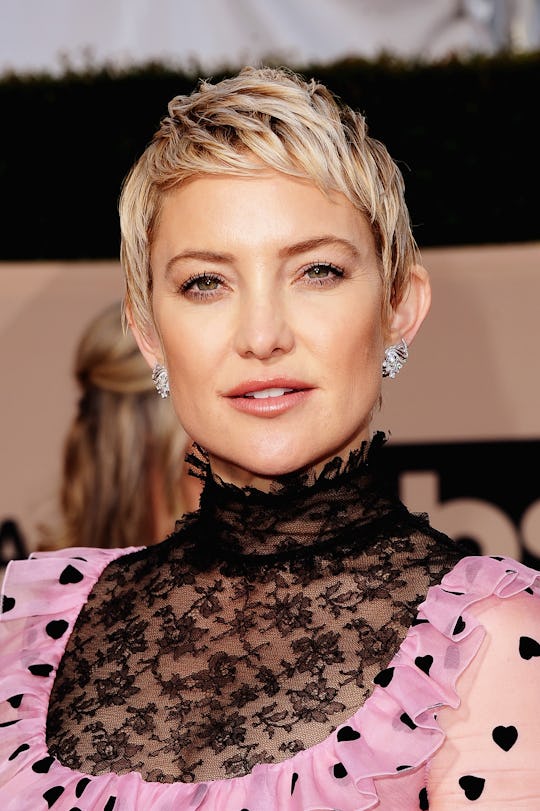 Jon Kopaloff/Getty Images Entertainment/Getty Images
Kate Hudson's Kids Are Already "Obsessed" With Rani
Bringing a new baby into a family is not always a simple feat. There are so many dynamics at play when a family expands: there's the reality of welcoming in a whole new personality to the mix, the challenge of dealing with jealous older siblings and the delineation of parent's attention, and then there's just the simple fact of whether or not your children will actually get along. The lattermost doesn't seem to be an issue for Kate Hudson, though, as her kids are already "obsessed" with Rani, as a new report shares.
Us Weekly reported on Thursday that Hudson, who gave birth to her first daughter this month, is adjusting well to being a mom of three. The magazine reports that Hudson's sons from previous relationships, Ryder and Bingham, are already totally in love with their new little sister.
CNN reported on Oct. 2, Hudson gave birth to her daughter with Danny Fujikawa, named Rani Rose Hudson Fujikawa. The little girl was reportedly named after her paternal grandfather. As Hudson wrote on Instagram: "Ron was the most special man who we all miss dearly. To name her after him is an honor." She added that everyone is "doing well and happy as can be," and that "our family thanks you for all the love and blessings that have been sent our way and we send ours right back."
Back in April, Hudson announced her pregnancy on Instagram, explaining to fans why she had been "absent" lately, and that she was struggling with morning sickness.
"SURPRISE!!! If you've wondered why I've been so absent on my social channels it's because I have never been more sick! It was the most sick first trimester of all my children," Hudson wrote on her announcement post. "Boomerangs have made me nauseous, Superzoom is an easy way to have my head in the toilet, food Instagrams make me queezy, and thinking too much about Insta stories made me even more exhausted than I already had been."
She continued: "We have been trying to keep this pregnancy under the radar for as long as possible but I'm a poppin' now! And it's too darn challenging to hide, and frankly hiding is more exhausting then just coming out with it! My kids, Danny [Fujikawa], myself and the entire family are crazy excited! A little girl on the way!"
A few weeks before delivery, Hudson appeared on The Ellen DeGeneres Show with her own mother, Goldie Hawn. The two opened up about how close they are, joked about deliveries past (Hawn reportedly gave Hudson a "large magnolia flower" inspired by, uh, her vagina, when she delivered her son). But most of all, the two shared their special bond as mother and soon-to-be grandmother again.
It's not the first time that Hudson has opened up about her relationship with her mom.Women's Health reported that this past Mother's Day, Hudson posted a tribute to Hawn, saying:
When you grow up with a smile like this you are raised to find the joy in every moment. I know I feel the kind of strength to live fearlessly because of her. I know that I have never feared paving my own path because of her. I know I feel deeply unconditionally loved because of her. I also know that every mother is capable to give this to their children. She taught me that the love of mothers shape the future. Not through expectations but through love and honoring your children's individual journey. To my great teacher, Happy Mothers Day.
It's clear that the two have a really special bond, one that's clearly carrying over to the newest little girl in the family. There's nothing but love over here.