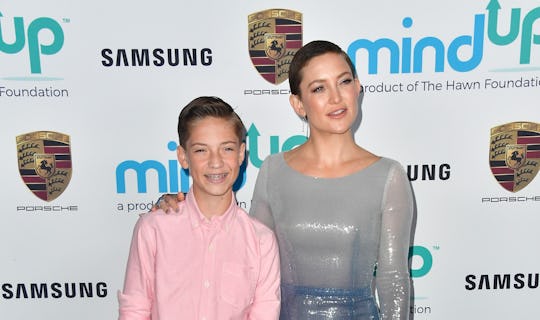 Frazer Harrison/Getty Images Entertainment/Getty Images
Kate Hudson's Motherhood Quotes Don't Sugarcoat What A Tough Job It Is
Last week, Kate Hudson and her boyfriend, Danny Fujikawa, announced that they're expecting their first child together, a daughter. This is the third child for mom, though, who already has two sons from previous relationships. Don't expect to hear the actress insisting that pregnancy is a "magical journey" anytime soon, though, because Kate Hudson's quotes on motherhood have consistently been the most honest ones you'll ever hear. She's candid about both the good and the bad, and she's definitely not sorry.
The star's trademark bluntness even shone through in her Instagram announcement, which started out, "If you've wondered why I've been so absent on my social channels it's because I have never been more sick!" Hudson explained that she found the motion-enabled features on the app particularly nauseating. Luckily, she had her acting skills to fall back on when she was keeping the pregnancy under wraps: "If you've seen me out and about smiling and pretending like everything is amazing... I was lying!" It must feel great for her to go back to sharing the brutal truth about pregnancy and motherhood again, because she's made a habit of baring it all, and I'm sure plenty of moms can relate to her previous comments.
She's An Occasional "Bad Mom"
In an essay for In Style, Hudson admitted to doing something slightly imperfect, mom-wise:
Some days I feel like I should win best mom of the day award, and some days I find myself doing strange things that don't have any real purpose, in faraway corners in my house, and I realize I am literally and deliberately hiding from my children.
On What's In Her Bag
If you're a purse-toting mom, you're probably familiar with the little surprises kids sometimes tuck in there. "I always have Lego men in my purse," Hudson told Harper's Bazaar. "When I'm traveling and I'm not with my kids, I look in my purse and there are, like, five Lego men." Better that than something sticky or slimy, right?
The Best Part Of Pregnancy
Weight gain, schmeight gain. Hudson told BlackFilm.com that during her first pregnancy, "I gained sixty pounds and I'm proud of it." She bragged about eating a pint of ice cream every day, adding, "Why do I need to watch my weight when I'm pregnant? I could eat whatever the hell I want to eat."
On Pregnancy "Advice"
In the same BlackFilm interview, Hudson was asked about parenting advice that she'd received, and her answer was gold: "Being pregnant I got so much advice I just started tuning it out. If one more person told me what I had to do when the baby comes, I was going to shoot 'em."
She's Honest With Her Sons About Her Limits
Raising two boys on her own while making movies wasn't easy, and Hudson didn't hide that fact from her sons. "I don't try to sugarcoat things," she told Marie Claire. "I'll say, 'I'm doing the best I can.'" She took care of them just fine, of course, but when they asked for more than she could give, she didn't back down, she added. "I can't do everything. I'm going to have to be the OK mom."
She Is Super Honest About What Mom Life Looks Like
During a 2016 Late Show appearance, host Stephen Colbert asked Hudson about her kids, and she immediately volunteered that she'd just been in touch with her tween's teacher hearing about all the trouble he'd gotten into, then shared an anecdote about her younger son vomiting on her. It's not all sunshine and rainbows, or as Hudson put it, "They're your kids! You love them and then you can't stand them sometimes; that's just the truth.'
This little girl is going to grow up with a really honest outlook on life.
Check out Romper's new video series, Bearing The Motherload, where disagreeing parents from different sides of an issue sit down with a mediator and talk about how to support (and not judge) each other's parenting perspectives. New episodes air Mondays on Facebook.