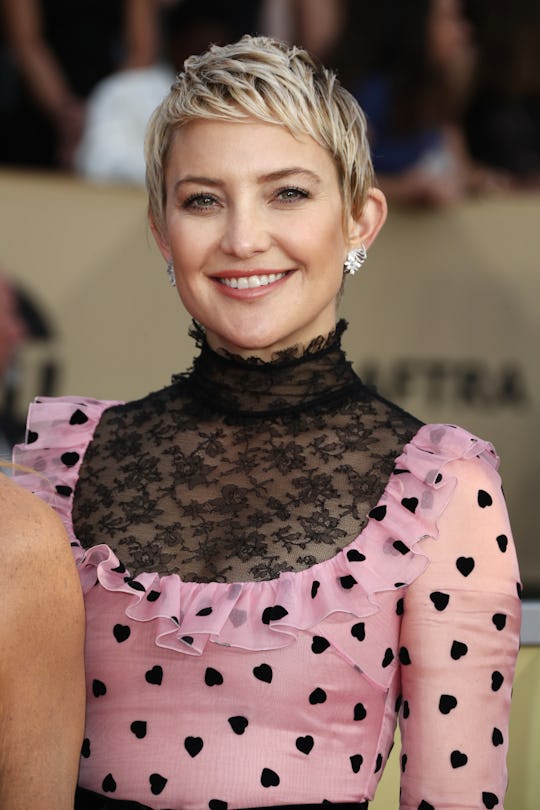 Frederick M. Brown/Getty Images Entertainment/Getty Images
Kate Hudson's New Daughter Was Given A Very Special First Name
Let's cut to the chase: on Oct. 2, Kate Hudson welcomed a baby girl with her boyfriend, Danny Fujikawa. We also know that Kate Hudson's baby name has a very special meaning behind it. Hudson already has two sons, but this is her first daughter, and while she probably had a lot of fun thinking of girl names for the first time, she decided to go with something more traditional. Hudson and her boyfriend decided to name their daughter Rani, pronounced "Ronnie," and she's already explained the meaning behind it.
"We have decided to name our daughter Rani (pronounced Ronnie) after her grandfather, Ron Fujikawa," Hudson explained on Instagram, as reported by Us Weekly. It's safe to assume that Ron Fujikawa is Danny's father, which marks Rani's name as a tribute to her late grandfather. "Ron was the most special man who we all miss dearly. To name her after him is an honor. Everyone is doing well and happy as can be. Our family thanks you for all the love and blessings that have been sent our way and we send ours right back."
Hudson announced way back in April that she was expecting another baby, and fans have been waiting all this time for the new arrival to, well, arrive. But they were probably nowhere near as anxious as Hudson was to meet her daughter.
Before giving birth to Rani, Hudson previously just had her two sons, Ryder, 14, and Bingham, who is 6, from former relationships with Chris Robinson and Matt Bellamy, respectively, according to Us Weekly. It's been awhile since there's been a baby in her household, and Fujikawa is a first-time dad with the arrival of baby Rani. I'm sure the excitement was almost too much to bear for the parents-to-be before they finally welcomed their baby girl on Oct. 2, 2018.
Long before Rani arrived, Hudson announced her pregnancy in the cutest way: via a gender reveal Instagram video. See the special moment for yourself below, and watch Hudson close to catch her beautiful reaction.
Hudson's sons were included in the gender reveal video, according to Mother.ly. In it, Hudson and her family held black balloons, with other decorations strewn around in both blue and pink hues. Then Hudson and the others popped the balloons, and both pink balloons and confetti burst out, revealing that Hudson and Fujikawa were expecting a girl. Hudson is clearly thrilled after the reveal, and everyone in the video is obviously beyond excited to welcome a girl to the family.
Hudson admitted in the caption of the video that she tried to keep the pregnancy "under the radar for as long as possible," but when she started "poppin," she couldn't hide it any longer. She ended the caption by saying, "My kids, Danny, myself and the entire family are crazy excited! A little girl on the way 💕."
All these months later, Hudson and Fujikawa have finally welcomed their daughter, Rani. Hudson's brother, Wyatt Russell, told People in mid-August that when it came to her famous family's feelings about the pregnancy, "Everyone is excited," he revealed. "A new addition is exciting for any family."
Congrats to the Hudson-Fujikawa family on their beautiful new addition!