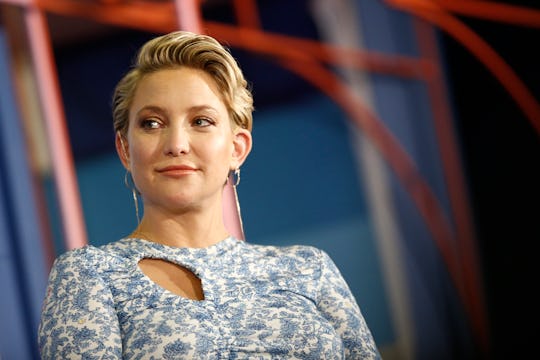 Brian Ach/Getty Images Entertainment/Getty Images
Moms Are *Loving* Kate Hudson's Newest Photo Of Her Growing Pregnancy Bump
With every Instagram post as of late, you can just tell just how excited Kate Hudson is that she'll soon welcome a baby girl to her brood. Most recently, Kate Hudson shared a sweet photo of her bare bump while on vacation in Greece and fans are loving her somewhat regular updates about her pregnancy this time around.
In the most recent photo, the actress looks comfortably stretched out in front of the sea in what she says is a cute bikini, though it's completely hidden by her growing bump. "I think my bikinis pretty cute....🤔👙#SheBig #HerGurl 💕" she captioned the post. Hudson's pregnancy with her baby girl, which she announced to the world on with an Instagram video on April 6, is due this August, according to People, so there are only a couple months left for Hudson to share some more adorable shots of her belly.
This last trip before she's expected to give birth is a full family affair, with everyone along: boyfriend Danny Fujikawa, mom Goldie Hawn, stepdad Kurt Russell, her bother Oliver, as well as her two sons Bingham and Ryder, according to People. A source told the magazine that she's been looking forward to the trip, "She was excited about traveling to Europe one last time before her baby girl arrives."
The vacation looks like it's been a perfect getaway and she's been sharing all of the fun, and her abundant love for these people in her life, on Instagram. On June 17 she shared another pic of her bump as she participated in what looks like a water-exercise group. "☀️'s out, belly out💛" she posted on the photo.
Hudson has been regularly updating her followers on the pregnancy, posting pics as her bump continues to grow. She started just as she was beginning to show, with a poolside pic in a cute red bikini.
On May 21, she shared a sweet one with a red kiss mark on her growing belly as she waited on a fitting.
During this trip to Greece, she posed with her hand on her belly, embracing her own mom in a hug.
Fans have loved following her pregnancy and today's post is no different. Many followers are taking the moment to reflect on their own pregnancies. "You too!? I can't see my bathing suit bottoms either 😂 or my toes anymore when in standing 😂😂😂 there's no such thing as rolling over without help anymore lol," one fan jokingly commented.
Hudson has also been sharing sweet moments from what looks like a babymoon. Looking radiant as she got a kiss during dinner from Fujikawa. Praising her mom, in a black swimsuit standing on a boat, as a "Goddess". And gushing over her brother and stepdad for Father's Day
She's full of love, also taking time to rave over the gorgeous location where the family is relaxing. Apparently, it's a repeat destination for the group to bask in the waters of Lalaria beach, one of the most famous in Greece, according to the website for the island of Skiathos. Hudson posted a snap of the group boating in a crystal blue cove and captioned it "💙Lalaria💙 Every year we come to swim in her beautiful water. She never lets us down 🇬🇷 #Skiathos".
Hopefully Hudson will be able to take the relaxed vibe back home with her when she has to leave the island to make preparations for baby number three fun. According to Us Weekly, she's taken the rest of the summer off work, so it sounds like she'll have plenty of time and space for nesting. Hudson and Fujikawa have been officially dating since May 2017, according to Us Weekly, but their relationship extends far back. In a post on their first anniversary Hudson told the story of meeting Fujikawa, who is the step brother of two of her best friends, when she was 23 years old.
"So on our 15th year of knowing each other we were able to open our hearts to each other," she wrote.
Big congrats to the happy couple as they revel in a little down time before this exciting life change. Keep on enjoying these lazy, sandy days before they're traded for sleepless nights full of sweet little love.