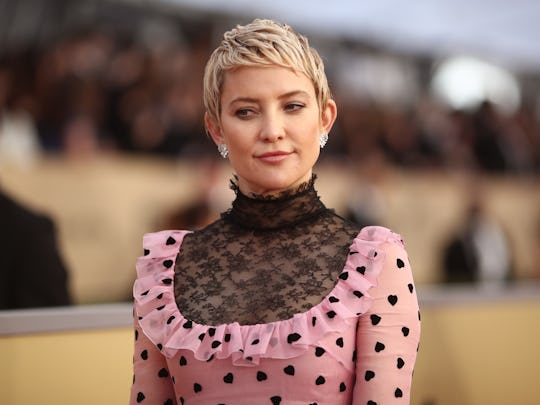 Christopher Polk/Getty Images Entertainment/Getty Images
Kate Hudson's Newest Photo Of Her Pregnancy Bump With Baby No. 3 Is Just Too Sweet To Handle
In the age of social media, celebrities can remain connected to their fans around the clock, with the ability to provide a play-by-play of their lives behind the scenes. (This is both a blessing and a curse, I'm sure.) One aspect in particular that I love about this heightened connectivity in recent years is being able to follow along with a celebrity's pregnancy in real time. From ultrasound photos, to sex reveals, weekly bump photos, to oh-so-relatable pregnancy moments, watching a celeb's parenthood journey unfold is just too cool. (Celebrities: They're just like us!) Kate Hudson is definitely among the expectant mamas I enjoy following on Instagram. And Kate Hudson's newest photo of her pregnancy bump is just too cute to handle.
Hudson took to Instagram on Monday to share an absolutely adorable update about her pregnancy. The mama-to-be shared a photo of herself while reclining on a heavenly-looking pile of pillows stacked on a couch and baring her bump — complete with a lipstick kiss mark on it. "Auntie @sophielopez giving us a belly kiss pre fitting #ShesGettingBig," Hudson captioned the snap, tagging photo stylist and costume designer Sophie Lopez, according to E! News.
I mean, come on. Could this photo get any sweeter? (Answer: No, no, it couldn't.)
Hudson revealed she was pregnant with baby number three (and first with boyfriend Danny Fujikawa) with a double-whammy pregnancy and sex announcement on April 6, Us Weekly reported. She already has two sons — Ryder, 14, with her ex-husband Chris Robinson, and Bingham, 6, with her ex-fiance Matthew Bellamy, according to the publication. So you can imagine how excited Hudson, Fujikawa, and her two sons were when they found out she was expecting a girl this time around. (Actually, no imagining required; just press "play" below, and see the giddy joy for yourself!)
For the big reveal, the Fabletics founder posted a video clip of herself and family members popping large, black balloons — and consequently being showered with pink confetti/releasing smaller pink balloon into the sky.
"SURPRISE!!! If you've wondered why I've been so absent on my social channels it's because I have never been more sick! It was the most sick first trimester of all my children," the actress captioned the Instagram video. "Boomerangs have made me nauseous, Superzoom is an easy way to have my head in the toilet, food instagrams make me queezy and thinking too much about insta stories made me even more exhausted than I already had been. If you've seen me out and about smiling and pretending like everything is amazing…I was lying!"
The How to Lose a Guy in 10 Days actress continued:
BUT! I have broken through on the other end of that and rediscovering the joys of insta/snap. We have been trying to keep this pregnancy under the radar for as long as possible but I'm a poppin now! And it's too darn challenging to hide, and frankly hiding is more exhausting then just coming out with it! My kids, Danny, myself and the entire family are crazy excited! A little girl on the way.
Since then, Hudson has shared periodic bump updates on her Instagram. Like this adorbs bump comparison boomerang with a fellow expectant mom friend.
And this bikini bump shot.
Hudson has even shared a first-trimester workout clip, from before she spilled the baby news. (And I have to say, it's serious #fitnessgoals, pregnant or not.)
At the beginning of May, Hudson also opened up to People about how her third pregnancy has compared the two previous experiences. "There's all kind of differences," Hudson told the publication. "They say girls make you sicker and that, for me, has been the truth. It's been interesting so far."
Hmm... interesting. My first pregnancy was with a son, and my second and third were both with daughters. And for me, at least, being pregnant with a boy was infinitely more difficult nausea-wise. Maybe it was because it was my first time, but for the first 14 weeks or so it was... bad.
My little boy also gave me the worst rib pain out of my three pregnancies. (Granted, my daughters both gifted me with horrendous heartburn. So they were no angels.) Still, I wonder how much of these symptoms actually had to do with the babies' sexes at the time.
Regardless of what actually influences the severity of various pregnancy ailments, here's to hoping Kate Hudson has found some much-needed relief for her "morning sickness." And that she keeps her irresistibly cute bump photos coming!