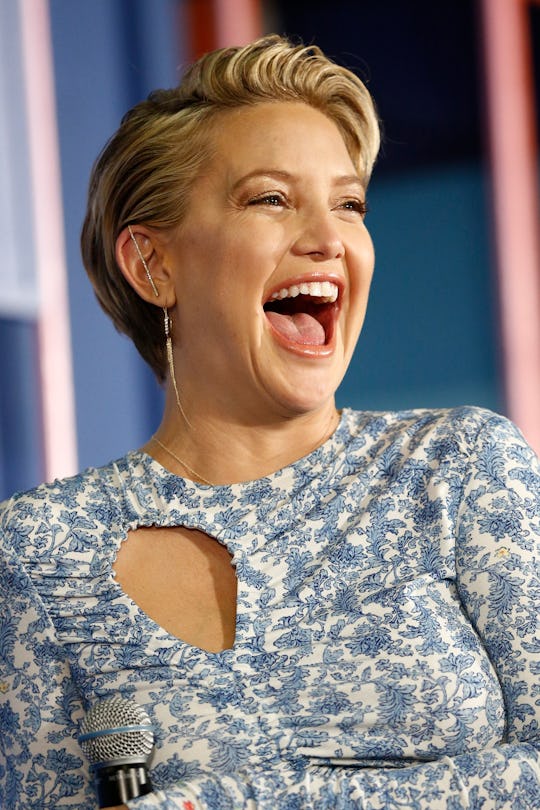 Brian Ach/Getty Images Entertainment/Getty Images
Kate Hudson's New Photo With Her Baby Girl Is Beyond Sweet, So Take A Minute To Ogle It
Things are good for Kate Hudson these days. The star just had her third baby, is madly in love with boyfriend Danny Fujikawa, and now has a thriving brood of two boys and a girl to add to her movie career and athletic-attire empire, Fabletics. But Hudson's new photo with newborn daughter Rani Rose is beyond sweet, so take a minute to ogle all that cute newborn baby-ness... before it's gone and little Rani is walking and talking.
The 39-year-old actress welcomed her first child with her musician boyfriend earlier this month, according to Entertainment Tonight. The mom of three shares 14-year-old Ryder, with her ex-husband, Chris Robinson of the Black Crowes and 7-year-old Bingham with Matt Bellamy of the British band Muse, according to Entertainment Tonight.
Hudson — who has known Fujikawa's family through his stepsisters since her childhood, according to Women's Health — posted on Instagram that the pair named baby Rani after her paternal grandpa. The baby was born in Los Angeles, according to People.
And then on Thursday, the new mom took to Instagram again to share another sweet shot with baby Rani. "The early morning calm... #babybubble," Hudson captioned the adorable pic of her holding baby Rani, with her arm resting over mama's shoulder.
Fans were thrilled with the photo, responding with messages like, "Congratulations dear," "Beautiful you," and, "She will have that beautiful smile of yours! 😍. Cherish every moment with her. She's adorable."
While it seems like Hudson is loving every minute with her newborn, it sounds like she already has some built-in babysitters for the new addition. As Us Weekly reported this week, a family friend apparently said that the bigger boys "are obsessed" with their little sister. Aww!
Thursday's pic wasn't the first glimpse of Hudson's baby girl; the actress shared the very first photo of baby Rani over the weekend. "🌹Our little rosebud🌹," she captioned the adorable shot of her newborn nestled in a baby blanket.
Hudson hasn't shared any details about Rani's delivery yet, but about a month before she gave birth, the actress shared a hysterical story along with her famous mom, Goldie Hawn, on The Ellen DeGeneres Show. During the segment, she explained how her mom brought a giant magnolia blossom into the delivery room during a previous delivery, so she could "think of her vagina as a... flower." (No confirmation yet that Grandma Goldie was invited to attend this birth...)
Though Hudson hasn't spoken about motherhood with her daughter yet, the actress did tell People in June that she was looking "forward to having feminine energy" around the house. And while so many moms worry about whether they are doing OK with their children, the star has said that she's pretty confident on the job, and it's likely she'll carry that on with Rani. "The best thing I probably do is — I'll say I'm a pretty darn good parent," Hudson told TODAY in 2016. "I got good kids... I think parenting is where I feel probably my strongest."
I love Hudson's confidence. It will be nice to follow how baby Rani settles in with the rest of the fam. It may not feel like it during a middle-of-the-night feeding, but I'm sure Hudson knows by now that these newborn months go by fast!