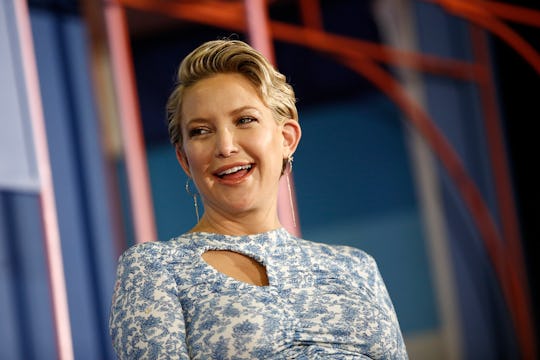 Brian Ach/Getty Images Entertainment/Getty Images
Kate Hudson's One-Month Photo Of Baby Rani Will Make You Melt
Is it just me, or does time seem to speed up exponentially with each child you have? Because I swear my youngest was born like, last month or something. But as it turns out, she's 2-and-a-half, so I have no idea what's going on. As it turns out, the same goes for celebrity babies. And Kate Hudson's 1-month photo of baby Rani proves she's so in love with her newest little one.
As E! Online reported, the actress gave birth to her first daughter, Rani — and her boyfriend, Danny Fujikawa's first child — on Oct. 2. She already had two sons, Ryder, whom she shares with her ex-husband Chris Robinson, and Bingham, who she shares with her ex Matt Bellamy, according to Women's Health. Hudson posted a birth announcement via Instagram, writing simply, "She's here 💕," alongside a photo sporting her baby girls' birthdate.
So when Hudson shared a photo on Tuesday, Oct. 30, her Instagram followers were pretty much all like, "What? Already!?" And to be fair, Rani isn't technically 1 month old today. She's four weeks on the dot, sure; however, Nov. 2 will officially be the 1-month mark. But I digress. Because just look at this sweet, precious baby!
The proud mama captioned the adorable shot with, "💝 #WhatAMonth!" And her Instagram followers promptly melted from the cuteness overload. One person wrote, "Omg stopppp SHE IS SO PRECIOUS I LITERALLY CANT 😍😍😍😍😍."
Another Instagram follower commented, "Has it been a month already, it went by so quickly!! She's beautiful, enjoy!!!"
Yet another person chimed in with, "There is no way she is already a month old! Wasn't it just last week?!?"
Meanwhile, another person declared, "OhhhhhMyyyyyy!!!! Such a bundle of perfection and scrumptiousness🌹🌹🌹🌹🌹."
Hudson first revealed she was expecting her third child with a playful pregnancy and sex announcement on April 6, Us Weekly reported. The big reveal featured a video clip of the pregnant mama, her two sons, and the dad-to-be popping large, black balloons with question marks on them. At the count of three, the four popped their balloons and were showered with pink confetti and released smaller pink balloons. And Hudson's reaction was simply priceless. Check it out for yourself.
"SURPRISE!!! If you've wondered why I've been so absent on my social channels it's because I have never been more sick! It was the most sick first trimester of all my children," the actress captioned her epic Instagram video. "Boomerangs have made me nauseous, Superzoom is an easy way to have my head in the toilet, food instagrams make me [queasy] and thinking too much about insta stories made me even more exhausted than I already had been. If you've seen me out and about smiling and pretending like everything is amazing… I was lying!" She continued:
BUT! I have broken through on the other end of that and rediscovering the joys of insta/snap. We have been trying to keep this pregnancy under the radar for as long as possible but I'm a poppin now! And it's too darn challenging to hide, and frankly hiding is more exhausting then just coming out with it! My kids, Danny, myself and the entire family are crazy excited! A little girl on the way.
Clearly, Kate Hudson is thoroughly enjoying her baby girl now that she's here. And it looks like the actress have a blast dressing Rani up, too — because her outfit is simply darling. (Honestly, that pink turban has me scouring Amazon to find something similar for my daughter-on-the-way.) Before Hudson even knows it, Rani will be crawling and then turning 1, and then walking, and ahhhh ... They really do grow up so fast, don't they?