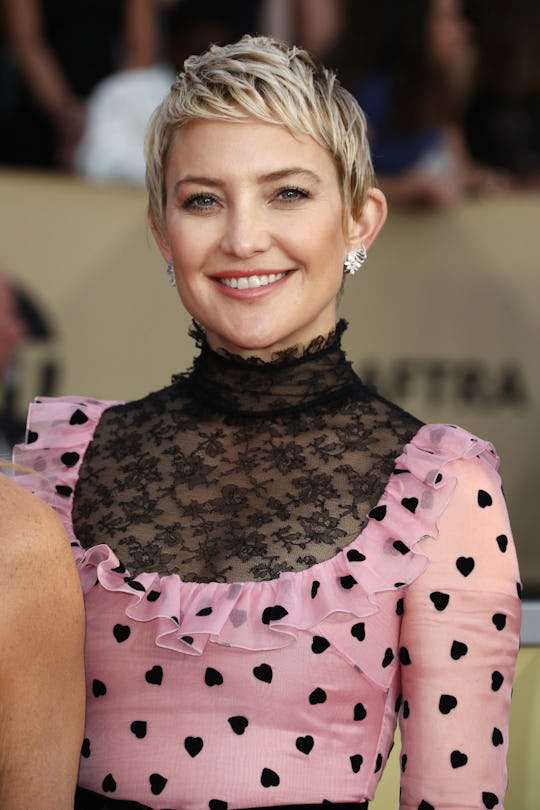 Frederick M. Brown/Getty Images Entertainment/Getty Images
Kate Hudson's New Instagram Picture of Baby Rani Is The Absolute Cutest
Actress, entrepreneur, and superstar mama Kate Hudson has posted some new pictures of her growing family, and Hudson's precious photo of baby Rani's itty bitty feet will absolutely make your day. The actress welcomed baby Rani Rose earlier this month in Los Angeles with partner Danny Fujikawa, according to USA Today, and has been posting up a storm ever since.
Now, all babies are precious of course, but this one in particular is exceptionally gorgeous. I thought so the first time I saw her picture, all swaddled up in her red, white, and blue blanket (looks like the hospital ones that are so good everyone wants to take them home). And in all of Hudson's newer posts, it's just becoming more clear that this little "rosebud," as her mom has dubbed her, as USA Today confirmed, is a really adorable mix of her mom and dad.
In the new Instagram photos, sadly, Rani's sweet face isn't visible, but her teeny, tiny little feet are seen poking out of a beautiful pink and white floral blanket, which has been layered on top of another blanket sporting blossoms. It seems that Kate has scored with her Fabletics line of athletic wear, but these photos show the star has quite the eye for photography and design, too (not that it's surprising). And, also unsurprisingly, people just swooned over the baby's tiny digits. "OMG her LITTLE tootsies," posted one fan. "Look at those beautiful feet," added another. A third fan had a cute idea: "Take one next to your hand....for comparison!!!"
Hudson and partner Fujikawa revealed after Rani's birth that the baby was named after Fujikawa's late father, according to Entertainment Tonight. "We have decided to name our daughter Rani (pronounced Ronnie) after her grandfather, Ron Fujikawa. Ron was the most special man who we all miss dearly. To name her after him is an honor," USA Today reported Hudson wrote on Instagram.
Since then, not only Hudson, but her kids, have posted photos of the new addition. Hudson's oldest son, Ryder, 14, shared a pic of him and Rani doing some serious snuggling, showing that I'm not the only one who thinks this baby is crazy-cute. "Love is not an emotion, it's your very existence," Hudson added another day, proving that her family members aren't the only ones hopelessly in love with their new little lass.
And according to Hudson's best friend, actress and Bumble Head of Creative Sara Foster, the family is settling in beautifully. "She was at a party last night and went home to breastfeed," Foster, who is also Fujikawa's stepsister according to Us Weekly, told the magazine over the weekend at a gala in Los Angeles. Foster added that Ryder and younger brother Bingham are "obsessed" with the baby, who is "like the belle of the ball" in their house. Aww.
Interestingly, Foster, 37, was definitive on the fact that Rani is, in fact, the last baby for Hudson, 39, and Fujikawa. "Kate completed the family," Foster told the magazine.
After all, when you already have two fantastic sons, and now a baby girl this cute... how much more "adorable" can you even handle in one house? It seems that the answer to that question, at least for Hudson and Fujikawa, might be "not much."