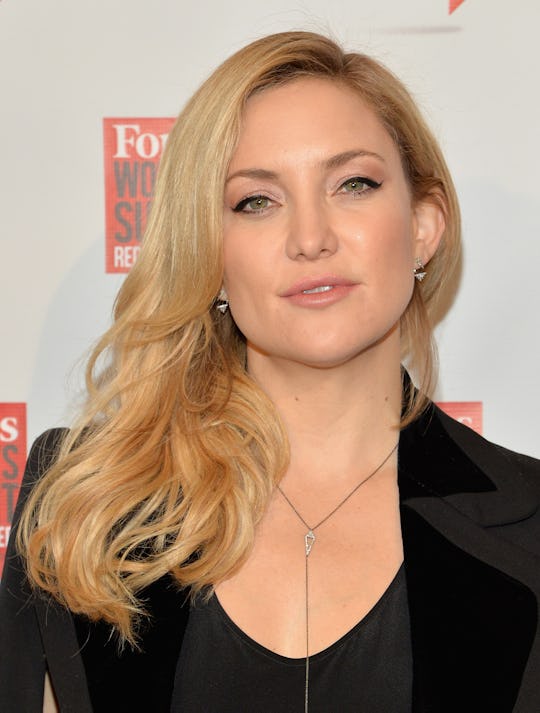 Slaven Vlasic/Getty Images Entertainment/Getty Images
Kate Hudson's Quotes About Her Postpartum Hair Loss Show How Common It Really Is
Kate Hudson is known for her acting chops, killer bod, flawless face, and yes, for her gorgeous golden locks. So when the actor opened up to Redbook in 2012 about a side-effect of her second pregnancy, one that many women might find embarrassing, it was a big step forward to moms and would-be moms everywhere. Kate Hudson's quotes about her postpartum hair loss show how common it can be and that should help reassure nervous moms that it's completely natural and usually nothing to worry about.
Hudson revealed she suffered from postpartum hair loss in an interview with Redbook in 2012, according to The Daily Mail. She admitted her second pregnancy came with a few side effects she wasn't expecting. Hudson has two sons, Ryder, 12, and Bingham, 5.
"When I had Ryder, I was 24 and didn't really experience any changes to my hair or skin," she told Redbook, according to The Daily Mail. "But with my second child, I got acne, all my hair fell out after he was born, and I definitely had to work out to drop the weight. No pregnancy is easy to bounce back from."
It was an honest and real moment that brought to light a very common problem many mothers have, but rarely talk about. The good news is that not only is postpartum hair loss common, but it's also not nearly as scary as it might seem.
According to the American Academy of Dermatology, new moms who notice more hair falling out than normal, are likely not really losing their hair. Instead what the AAD says you're seeing is excessive hair shedding caused by a drop in estrogen levels after pregnancy. It's temporary, healthy and usually no big deal. But for women, especially women like Hudson who are known for having thick, gorgeous hair, it can be an emotional and scary experience.
So how do you know if your hair loss is just a normal side effect of pregnancy or something more? The AAD said postpartum hair loss peaks at about four months after delivery and can continue for up to a year after giving birth.
"Most women see their hair return to its normal fullness by their child's first birthday. Many women regain normal fullness even earlier," the AAD said.
While your hair is shedding it may appear thinner temporarily, which the AAD recommends treating with volumizing shampoo.
One real potential danger associated with hair loss is the hair twisting itself around a baby's finger or toe and cutting off circulation. It's called a hair tourniquet and can be really dangerous. Parents Scott and Jessica Walker from Witchita, Kansas recently shared their story of discovering a hair tourniquet around their 19-month-old baby's toe after removing her sock.
"It was a pretty scary situation," Scott Walker said about his viral social media post about the incident, according to TODAY. "It ended very well, but it was scary enough where I wouldn't want anyone else to deal with something like that, so I wrote about it."
So remember, while postpartum hair loss is common, usually no big deal, and even plagues the most beautiful moms around, it can still be dangerous to your baby.