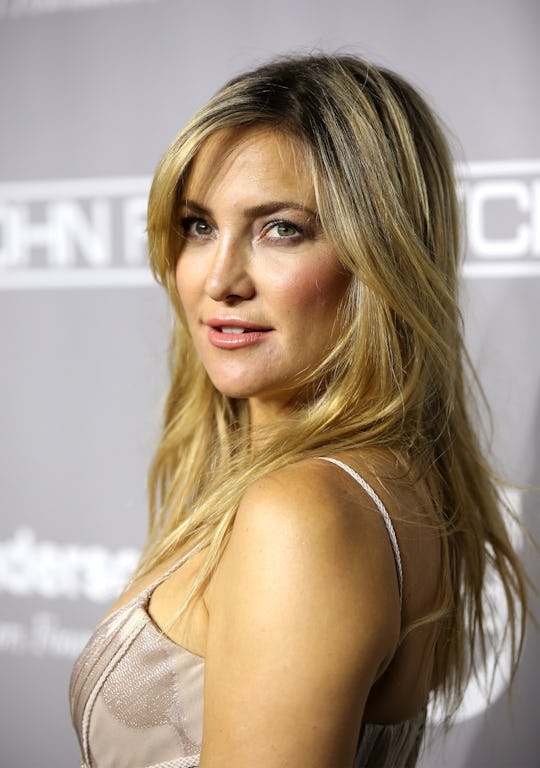 Phillip Faraone/Getty Images Entertainment/Getty Images
Kate Hudson's Thoughts On Pregnancy Weight Gain Are So Relatable
While every mom-to-be expects that she will gain an extra 30 pounds or so during her pregnancy, losing that baby weight sometimes doesn't happen as quickly or easily as planned. And it's just as challenging for fit celebrity moms who have plenty of resources to help them lose those extra pounds, like Kate Hudson who struggled with her pregnancy weight gain. In an recent interview with comedian and late night host Chelsea Handler on her Netflix show Chelsea, the 37-year-old mom-of-two joked that she actually enjoyed the weight gain that came along with her first pregnancy — to an extent — but she still remembers how difficult it was for her to snap back to her pre-baby body after giving birth to her first child back in 2004 and shared some super relatable thoughts most moms, and women, go through when they're trying to lose weight.
"Remember when you had that first baby and you gained like 150 pounds?" Handler joked. "It was like Shallow Hal, remember? Oh my God."
"I was so huge," Hudson — who is the mom to two boys, 5-year-old Bingham "Bing" and almost 13-year-old Ryder — laughed along with the audience. "I loved it too — I relished in that moment of my [life]."
The actress told Handler and the audience a hilarious story that happened about one month before she delivered her first son, sharing how happy she was at the time, but how others noticed the weight she had gained.
"I had this Christmas party and I don't know what I was thinking — I put on a size 2, like, spandex Versace dress. I was two weeks away from having Ryder — I must've been 200 pounds," she said. "And I wore these white Ugg boots and this dress, and I was so happy."
She continued, "And I open the door [to the party] and I was like, 'Merry Christmas!' and there was Ben Stiller. And he just started to laugh. And he was like, 'Oh my God, you're huge.'"
While a woman's first pregnancy is a once in a lifetime experience and Hudson rightfully "relished" the moment, she did share a more serious, and relatable, note on how quickly the weight can sneak up on you and how difficult it is to lose.
"Even my doctor was like, 'You know, you should try not to eat so much,'" Hudson recalled in the same interview. "And then after I had Ryder, that was when it sort of hit me … and then, trying to lose the weight and being in that year of my life was really interesting, 'cause then all of a sudden you have the baby and then all of a sudden you're 70 pounds overweight."
She continued, "Then all of a sudden you feel very scrutinized, then all of a sudden you feel like you need to hurry up and [lose the weight]. And it was actually emotional 'cause I couldn't lose the weight. You plateau. Anybody who's had that moment in their life, it just sucks."
It does, and there are a lot of valid reasons why new moms have trouble losing their baby weight. It could be from lack of sleep, hectic schedules that make meal times inconsistent and leave no time for exercise, or just by snacking whenever you find the time.
Watch the full interview here:
Hudson's struggle to lose weight is something that almost every mom, and woman, goes through at one point in her life and it's refreshing to know that even a Hollywood star goes through the same emotional and physical challenges, just like the rest of us.