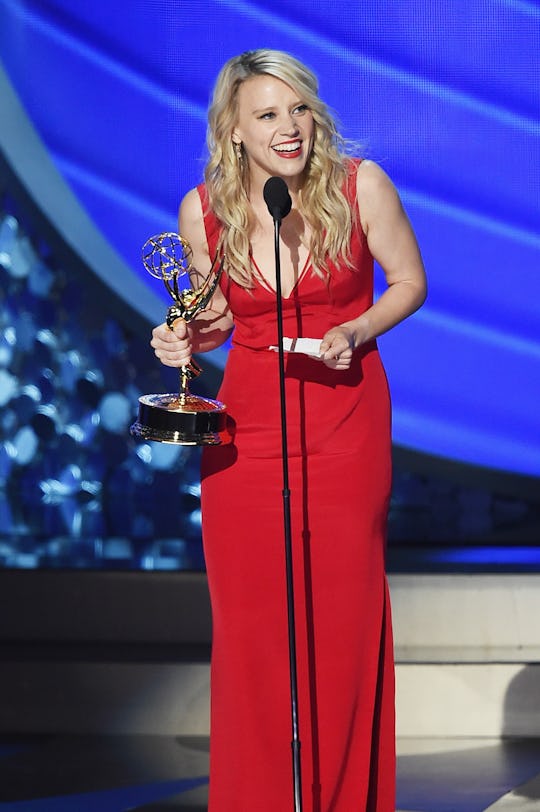 Kevin Winter/Getty
Kate McKinnon Thanks Hillary Clinton For Her 2016 Emmys Win, Because She Helped A Lot
A a new Queen of Comedy has been crowned, and it is the inimitable Kate McKinnon, who has captured hearts (and the Emmy) for her perfect imitations on Saturday Night Live. Among those imitations is a pitch perfect Hillary Clinton impersonation that belongs in the Hall of Fame next to Tina Fey's Sarah Palin. For that, Kate McKinnon thanked Hillary Clinton for her 2016 Emmys win, because, well, she couldn't have done it without her.
In the impressive span of her political career, Hillary Clinton has never been more relevant than at this moment with her presidential run, and Kate McKinnon's impersonations of her have never been more necessary or more hilarious. McKinnon has had a very big year. In addition to her work on Saturday Night Live, she completely stole the show on the Ghostbusters reboot, despite standing along side equally talented costars of Melissa McCarthy, Kristen Wiig, and Leslie Jones. Perhaps the only person who doesn't realize how incredible McKinnon is is McKinnon herself, who gushed to E after the news of her nomination broke, "I think there's been an error, and I think I don't know what I'm thinking, but I appreciate it and I am so thrilled and so happy." Fans are so thrilled and so happy too.
"I'm really crying, I'm not making it up," McKinnon said as she took the stage. Through her happy tears, she McKinnon had a long list of people to thank for her Emmy win. Among them were Lorne Michaels who gave her "the job of her life," as well as "Ellen Degeneres," who she has also played on SNL, and current Democratic Presidential nominee, Hillary Clinton. It makes sense, as playing Clinton is what made McKinnon arguably the best part of Saturday Night Live in a long, long time. (Interestingly, McKinnon did not also thank Justin Bieber, who she has also impersonated.) Clinton herself actually congratulated McKinnon on her big win with a tweet and a GIF from one of McKinnon's SNL skits.
McKinnon won the award for Outstanding Supporting Actress in a Comedy Series over Allison Janney for Mom and Anna Chlumsky for Veep, though both Janney and Chlumsky were predicted to win the award by more news outlets, according to NPR. McKinnon's win was a bit of an upset especially considering the fact that it's very rare for an actor from a sketch or variety series to take home an Outstanding Supporting Actor award. Then again, as Jeffrey Tambor said when accepting his award, "there are no best actors."