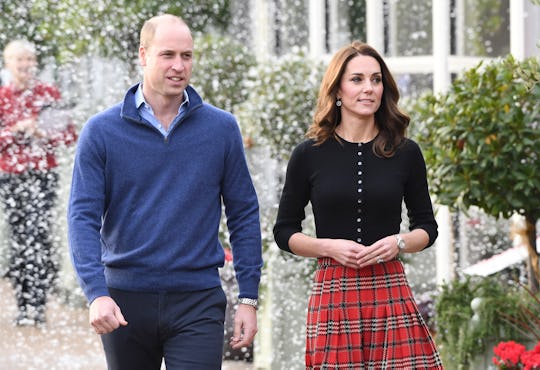 Stuart C. Wilson/Getty Images Entertainment/Getty Images
Kate Middleton Acknowledged Military Families With The Most Touching Speech
With the focus on togetherness, the holiday season can be especially hard for military families who are often missing a member throughout all the celebrations. Those who haven't had a family member away during holidays may not be able to relate to how hard it can be. But, during a Christmas party, Kate Middleton acknowledged military families with the most touching speech. On Tuesday, she opened up with some of her own experiences when having a loved one away for military service.
The royals are always busy throughout the holidays and this year is no exception. Recently, Prince William and Kate Middleton hosted a Christmas party for the families and children of deployed Royal Air Force personnel, as reported by Hello! Magazine. The outlet reported that about 7,500 military personnel are currently serving overseas or away from home on exercises, with a large portion of them being parents.
When you're a kid, it can be really difficult to understand why one of your parents can't come home for the holidays, and the royals' Christmas party was an incredibly touching way to help make that process easier for kids. Plus, it had a little bit of personal significance for both Prince William and his wife, Kate Middleton.
In a speech, the Duchess of Cambridge told families, according to Town & Country, "As someone whose husband has served, I know how hard it feels when a loved one leaves home to do the job they've trained for. When William served in the Falklands or went search and rescue, I remember how it felt."
Prince William has famously gained experience in all three major branches of the armed service. According to Brittanica, Prince William entered the Royal Military Academy Sandhurst in 2006 and, in 2008, went on attachment to the Royal Air Force and then the Royal Navy.
He completed training as a helicopter pilot in the RAF Search and Rescue Force and began a tour of duty in Wales. In 2012, Prince William arrived in the Falkland Islands ahead of a tour of duty as an RAF search and rescue pilot, as reported by The Guardian.
Prince William ended his military service in September 2013, after reportedly participating in more than 150 operations, according to Brittanica. Prince William and Kate Middleton were a couple throughout a large chunk of his military service, having married in 2011.
The Duchess also spoke about how holidays can be particularly difficult, saying, according to Town & Country:
But I can't imagine how it feels when your loved ones are away on active service over Christmas or at those special family moments. The absence of people you love must be especially hard at this time of year. We should never forget our military families and all the service you do for us all.
The couple will fly to RAF Akrotiri in Cyprus to meeting with serving personnel, according to Hello! Magazine. Until then, this party was a great way for them to connect with military families, and showed just how much the royal family can relate to some hardships families have during the holiday season.
This first-time mom wants to have a home birth, but is she ready? Watch how a doula supports a military mom who's determined to have a home birth in Episode One of Romper's Doula Diaries, Season Two, below. Visit Bustle Digital Group's YouTube page for the next three episodes, launching Mondays in December.