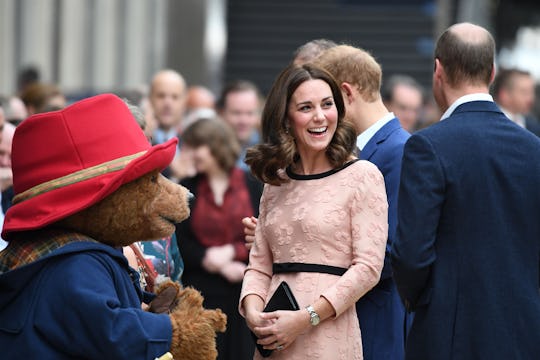 CHRIS J RATCLIFFE/AFP/Getty Images
Kate Middleton Announces Baby No. 3's Due Date, & Fans Are So Excited
Tuesday brought some very exciting news for the British royal family and all of its fans. Kate Middleton announced her due date, and from the sounds of it, Kensington Palace can expect a new royal baby in the spring of 2018, according to E! News. Kate Middleton and Prince William's third child is reportedly due in April 2018, so the question now is — who will get to share a birthday with the newest little royal?
The couple announced the Duchess of Cambridge is pregnant a month ago, but didn't previously say what month the new baby is due, according to The Laredo Morning Times. A specific date hasn't been announced, but narrowing it down to April is still exciting for fans of the royal family, who anxiously await every bit of news.
It's probably very exciting for the Duke and Duchess of Cambridge as well, because what expectant parent isn't excited for every new development of a pregnancy? Plus, Middleton is probably pleased by every bit of good news about her latest pregnancy — the initial announcement confirmed that she is suffering from acute morning sickness (also known as Hyperemesis Gravidarum) with this pregnancy, according to E! News. Hyperemis Gravidarum is definitely tough to deal with, and while she probably feels that getting a baby at the end of it all makes it all worth it, every little reminder that she'll get there is likely welcome.
Middleton and her husband, Prince William, currently have two children — Prince George, 4, and Princess Charlotte, who is 2 years old, according to PopSugar. What are the chances that even the royal kids disagree over whether they're going to have a little brother or sister when April rolls around?
Although we now know when Middleton's next child is due, we don't really know much else about the pregnancy yet. One of the big questions when it comes to a new royal baby is what name will be chosen for the kid, and betting sites have already released odds for this baby, according to Good Housekeeping. Popular choices include Alice or Elizabeth if it's a girl, and for a boy, James. Alice is the name of Queen Victoria's second daughter and Prince Philip's grandmother, so that would certainly be a fitting choice.
But really, Prince William and Middleton could choose just about anything when it comes to naming this new baby, and their fans would be pumped about it. Their royal family members might have strong opinions if they pick something truly out there, though.
As always, Twitter had something to say about the latest in royal baby news. The reactions were swift and varied — some people were excited by the announcement of Middleton's due date, and others went out of their way to let people know that they're not excited at all.
Whether or not you care that there's a new royal baby due in April, a ton of people care a whole lot about this news.
Just days ago, Pop Sugar speculated that the baby could arrive anytime between March and June 2018, and noted that many publications believed that the couple waited until the three-month mark to announce Middleton's pregnancy. That put the baby's due date sometime in April 2018, and as it turned out, that prediction by Pop Sugar was pretty spot on.
The fact that there were already articles out there about people trying to determine when Prince William and Middleton's next child was due suggests that there's a lot of interest in the pregnancy — whether or not people on Twitter seem all that enthusiastic about the most recent announcement.
With an April due date, the next royal baby's birthday may fall just a little before Princess Charlotte's. Her birthday is on May 2, according to E! News. Prince George's, on the other hand, is on July 22, so he's in no danger of having to share a birthday season with his new little sibling.
Anyone waiting to find out whether they will get to share a birthday month, or even the same birthday, with the next royal baby will just have to wait and see what day it's born, just like the rest of us. Even if Middleton had an exact due date, she probably wouldn't share it, and it might not even be correct in the end anyway.
But it's fun to speculate anyway, isn't it?