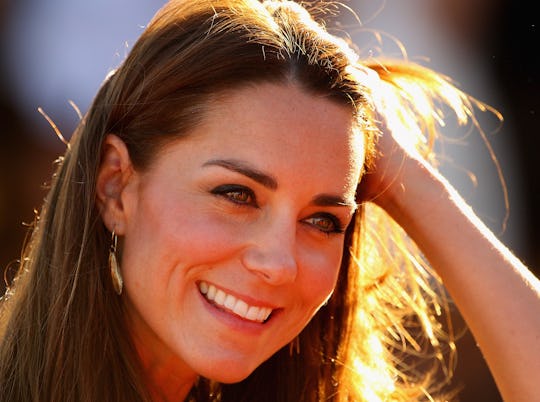 Scott Barbour/Getty Images Entertainment/Getty Images
Kate Middleton Donated 7 Inches Of Her Hair To Charity For A Heartwarming Cause
The world already loves the Duchess of Cambridge and now there's yet another reason to admire her. According to People, Kate Middleton donated her hair to charity for a heartwarming cause and she made sure the good deed was done anonymously. This wasn't something Middleton did for attention or publicity; it seems as though she kept the donation between herself and her hair stylist until word ultimately got out.
Middleton's stylist is Joey Wheeler, from London's Richard Ward salon, and People reported that when Middleton chopped off 7 inches of her hair last summer, she wanted the hair to be put to good use. The Daily Express reported that a "royal source" revealed:
Joey persuaded her it was time to take off some of her hair; he said it was just getting too long. While Joey was snipping away the idea came to her of doing some good with it rather than throwing it away ... It was sent using someone else's name, so that the trust didn't know it was from a royal source – they just thought it was from a female donor in the Kensington area.
Middleton and Wheeler reportedly opted to send her locks to the organization Little Princess Trust, which provides wigs with real hair to children who suffer from hair loss. According to the organization's website, children and young adults eligible for the wigs have lost their hair due to cancer and other illnesses. Young people up to age 24 are eligible to receive wigs.
Monica Glass, Charity Manager from the Little Princess Trust, recently talked about her excitement over Middleton's decision to donate to the children's charity. Little Princess Trust posted the following statement from Glass on its website:
We are so very grateful to every single person who kindly supports the charity in this way. As the Duchess of Cambridge is so much in the public eye, we hope the message that the charity can help children and young people with hair loss will reach everyone who might need our assistance. Receiving a free, real hair wig has a very positive impact on a child or young adult at such a difficult time. We hope that this donation will encourage others to consider supporting the charity in the same way.
Another big supporter of Little Princess Trust is former One Direction singer Harry Styles. Remember a couple years ago when Styles chopped off his locks and posted the above photo on Instagram? With the picture, Styles wrote the caption, "Whoops. #littleprincesstrust." How sweet is that? And, Styles' support of the organization continues today. Just a couple months ago, in November 2017, the organization wrote on its Instagram account that Styles donated concert tickets to one of his upcoming Spring shows as well.
Other celebrities who have donated their hair to charity include Justin Bieber, Shailene Woodley, Russell Crowe, and Amanda Seyfried. These are just a few examples, as many choose to remain anonymous with their donations, just like Middleton did. How amazing is it to think that someone who is battling cancer and suffering from hair loss could end up walking around with one of their idols' locks on their head?
"It's lovely to think somewhere a little girl is happily wearing a wig made from a real princess's hair," a "royal source" told the Daily Express. "It's a very heartwarming thing for Kate to have done, and very thoughtful to use hair that would have otherwise just been thrown away."
The Sun reported that Little Princess Trust was founded in 2006, by the parents of a little girl named Hannah Tarplee, who died at the young age of 5 after battling a cancerous tumor that didn't respond well enough to chemotherapy treatment. Wendy and Simon Tarplee told the Daily Express that the organization has given away over 5,500 wigs to sick children. In addition, the organization now helps to fund research for pediatric cancer and less toxic treatment possibilities.
Currently, Middleton is expecting her third child, due in April 2018, according to E! News. Hopefully, Middleton's baby not only inherits her luscious locks, but also inherits their mom's beautiful heart.
Check out Romper's new video series, Romper's Doula Diaries:
Watch full episodes of Romper's Doula Diaries on Facebook Watch.