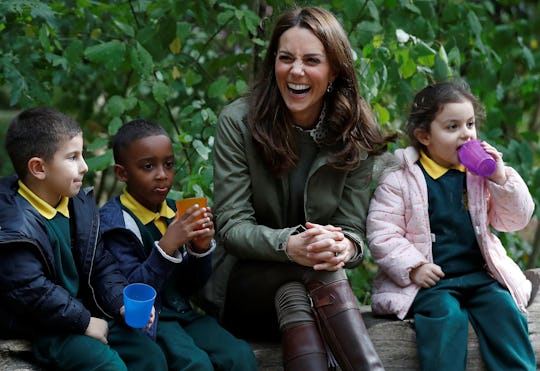 WPA Pool/Getty Images Entertainment/Getty Images
Kate Middleton Eases Out Of Maternity Leave To Visit With School Children
I don't know about you, but when I returned to work following maternity leave, I felt like a baby deer learning how to walk. After weeks spent caring for a newborn around the clock and not having an abundance of adult contact, suddenly being thrust into working life again was quite a shock to the system. It look a little bit to get back in my groove, but eventually I was able to find my new normal. As of today — after six months spent mostly out of the spotlight — Kate Middleton eased out of maternity leave with an outdoorsy visit with school children.
As Us Weekly reported, the Duchess of Cambridge stepped out on Tuesday, Oct. 2, to visit London's Paddington Recreation Ground. Although it was only a 10-minute drive from Kensington Palace, it was her first official royal engagement since giving birth to Prince Louis. Specifically, Middleton visited the Sayers Croft Forest School and Wildlife Garden at the park, to learn more about how inner-city schoolchildren are invited to interact with nature there, according to the publication.
"Her Royal Highness will see first-hand the positive impact that the Forest School has on children's emotional and physical well-being as she is shown the wildlife garden and meets children involved in exploratory and investigative outdoor activities," according to a Kensington Palace press release explained. "Her Royal Highness will also hear from instructors and teachers about the beneficial effect that outdoor learning and being around nature can have on children's mental health, well-being and development." Kensington Palace also took to both Twitter and Instagram to share photos from Middleton's first post-maternity leave outing.
As People reported, Middleton was photographed sitting on a log next to a group of kids from St. Stephen's School in London for story time at the garden. In one of the images, a little girl can be seen attempting to drink out of her cup without using her hands — and it seems Middleton couldn't help but giggle when the schoolgirl tipped her head back with the cup in her mouth to take a drink. Yep, the mom of three probably felt right at home in the midst of the kid shenanigans.
Judging by the Twitter reactions to the Duchess of Cambridge's return to royal duties, royal fans were excited to see her back in the action. One Twitter user wrote, "So glad she's back we've missed her."
Another person tweeted, "Wonderful to see the Duchess Cambridge back ! We missed her! This is a great organisation for children in the city to get closer to nature."
Yet another Twitter user chimed in with, "Lovely to see Catherine back."
As ABC News reported in March, the Duchess of Cambridge was expected to take a six-month maternity leave after she gave birth to royal baby number three. (Although, her last official royal engagement was on March 22.) Middleton ended up delivering her baby boy, Prince Louis, on April 23, according to Time. Since then, the mom of three has made a number of public appearances — just not official royal engagements. There was the royal wedding between Prince Harry and Meghan Markle on May 19, the Trooping of the Colour in June, and Prince Louis' christening in July.
So I'm sure fans of the royal family are excited to get their regular dose of Kate Middleton again, after her extended break from the spotlight. Hopefully, Middleton feels relatively refreshed, after spending six months getting used to this whole three-kids business. (Or at least as "refreshed" as possible, considering how demanding caring for an infant and two older children can be.) I, for one, think that easing back into her royal duties with a low-key visit with school children seems like the perfect transition. Welcome back, Kate!