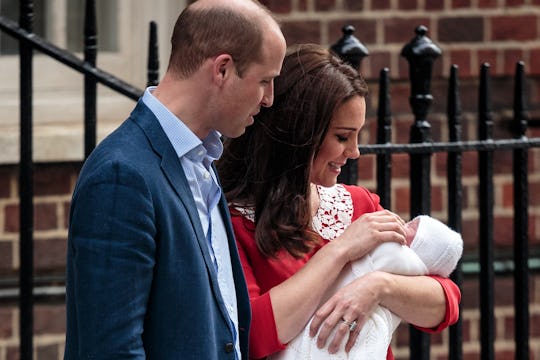 Jack Taylor/Getty Images Entertainment/Getty Images
Kate Middleton Is Reportedly Taking A Longer Maternity Leave With Prince Louis & Here's Why
When Kate Middleton gave birth to Prince Louis, she delighted the world when she stepped out of St. Mary's Hospital just seven hours after giving birth, with the new royal baby in tow. Most women rarely want to be seen hours after waking up, let alone just after giving birth. But Middleton did just that for the hundreds of cameras waiting for her. Based on this incredible act of strength and determination — along with the fact that she has two other children at home — it's totally understandable that Middleton is reportedly taking a longer maternity leave with Prince Louis than she did with Prince George or Princess Charlotte. Though many women don't have the luxury of this kind of choice, it's nice that the Duchess of Cambridge is utilizing it while bringing awareness to its importance as well.
It's hard to believe that Middleton and Prince William welcomed Prince Louis just a week ago. The newest royal's birth marked a major occasion as another person is officially in line for the royal throne (Prince Louis takes sixth place after his siblings, according to The Sun). Just one week later, Middleton and Prince William celebrated their seventh wedding anniversary and today, Middleton and Prince William celebrated Princess Charlotte's third birthday. Needless to say, this past week has been super eventful and Middleton barely has had any time to take it all in — which could be why she is taking a little bit longer to recover from this pregnancy.
Middleton, according to The Independent, will reportedly be "extending her leave" for "an additional few months" to have plenty of time to recover and spend as much time with her family of five. She reportedly felt that she "returned too quickly to public life after giving birth" to both Prince George and Princess Charlotte, according to The Independent.
This means, according to The Independent, that Middleton will wait to make any major public appearances until she feels like the time is ready. Again, while many women don't have this option — especially in the United States — Middleton's choice to do so is admirable and will hopefully draw attention to just how important this time, without the stress of money worries or job security, after giving birth is for new moms.
But, technically, her maternity leave won't keep her away for too long. Indeed, people can likely count on her showing up to the wedding of her brother-in-law Prince Harry and Meghan Markle's wedding on May 19, according to Fox News. While it is unlikely that Middleton will stand alongside Markle as a bridesmaid in the wedding, according to Town & Country, it is likely that she will be there in attendance. Especially since, according to Town & Country, Prince William will be Prince Harry's best man and their children will reportedly be playing roles in the bridal party at the wedding ceremony, according to Harper's Bazaar.
Although she just gave birth and has an adorable newborn at home, it's likely that she doesn't want to miss such a memorable day. Therefore, Middleton will have four weeks to enjoy her new bundle of joy before people finally get a glimpse of her, plus a little extra time after that.
So what will Middleton be doing on her maternity leave? According to OK! Magazine, this just means that she will be staying home and enjoying her family rather than making any major appearances in public (with the exception of some special family events, like the upcoming royal wedding). Although she will reportedly be showing up at the wedding later this month, according to OK! Magazine, Middleton won't reportedly return to any "official royal engagements until autumn."
With Prince George, Middleton took two months of maternity leave, according to OK! Magazine, and after she gave birth to Princess Charlotte, Middleton took four months off, reporting for royal duty later that year in September. Because of this knowledge, combined with this news, Middleton probably won't make an appearance during her first royal engagement until the fall. Luckily, though, royal watchers will get to see Middleton in just a matter of days at Prince Harry and Markle's wedding.
Check out Romper's new video series, Bearing The Motherload, where disagreeing parents from different sides of an issue sit down with a mediator and talk about how to support (and not judge) each other's parenting perspectives. New episodes air Mondays on Facebook.