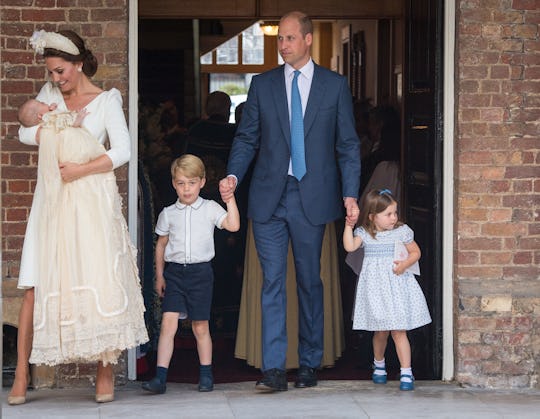 WPA Pool/Getty Images Entertainment/Getty Images
Kate Middleton, Prince William & The Royal Kids Reportedly Jetted Off To A Tropical Island
It's no secret 2018 has been a busy year for Prince William, Duke of Cambridge and Catherine, Duchess of Cambridge. In April, the two welcomed their third child, Prince Louis, and then they attended the wedding of Prince Harry and Meghan Markle in May. And almost two months after the nuptials, Duchess Kate and Prince William christened Prince Louis on July 9. Although they're probably used to their hectic lives by now, it doesn't mean they don't need a chance to relax from time to time. And if recent reports are to believed, then it sounds like Kate Middleton and Prince William are reportedly on vacation at a private island in the Caribbean. Sounds like fun, but what's the most special part? This would be the royal brood's first trip as a family of five. Kensington Palace did not immediately respond to Romper's request for comment on their reported travel plans.
When it comes to travel, Prince William and Duchess Kate know how to do things right. The parents typically opt for exclusive destinations like the Swiss Alps, a 5-star resort in the Indian Ocean, or the south of France, according to PopSugar. And as one might expect, the Cambridge's vacations are always glamorous and private. As for the couple's latest excursion, they reportedly jetted off to a private island in the Caribbean called Mustique, according to HELLO! Magazine. Kate's parents, Carole and Michael Middleton, along with her sister, Pippa Middleton, also reportedly joined in on the fun, according to The Sun. The family was reportedly spotted at St. Lucia airport, the first stop on their way to Mustique, as HELLO! Magazine reported.
"A lovely follower on Instagram messaged me that her friend spotted The Cambridges along with The Middletons on their way to Vacation in St. Lucia!" a fan accounted called "Tea Time With The Cambridges" claimed on Wednesday. "They mentioned the Cambridges then got off the plane and went on a private one to their next destination. My best guess is they're on their way to Mustique ... "
If Duchess Kate and Prince William are in Mustique, it's the perfect place for their first vacation as a family of five. According to GQ, the island boasts a no-fly zone, and it's a go-to spot for famous people who want to vacation in private. In fact, there are only "100 or so" villas to rent on the entire island, according to GQ. Sounds relaxing.
Not to mention, the island itself is pretty magical. Mustique's website states:
There are no rules on Mustique, no protocols or expectations. Guests can simply do as they wish. Enjoy the privacy of your own villa, or the legendary house parties where fellow guests get together to enjoy anything from a gastronomic dinner, a cocktail party, to a beach barbeque, or Jump Up at Basil's. On Mustique, anything goes. Explore the island at your own speed, where a whole host of experiences await; from swimming and scuba diving in the jewel coloured waters, to sailing and snorkeling with the turtles at nearby Tobago Cays. Onshore choose from riding horses along the beaches or honing your tennis skills at the renowned Mustique Tennis Club, or indulge in a world-class spa treatment ...
Considering royal life is all about following rules and protocols, I'd imagine Mustique is a dream come true for the Cambridge crew. It must be nice for the parents to just exist with their young kids outside of the public eye. The family can just be themselves on this island, and that's awesome.
So, should these reports be true, what will the family do with all of their downtime? There's a good chance Duchess Kate and Prince William could throw a big bash for Prince George, who is set to celebrate his birthday on July 22. Talk about fancy.
Hopefully, no one will leak photos or any more details of the family's supposed trip. They deserve to enjoy a low-key vacation with their three kids no matter where they go.