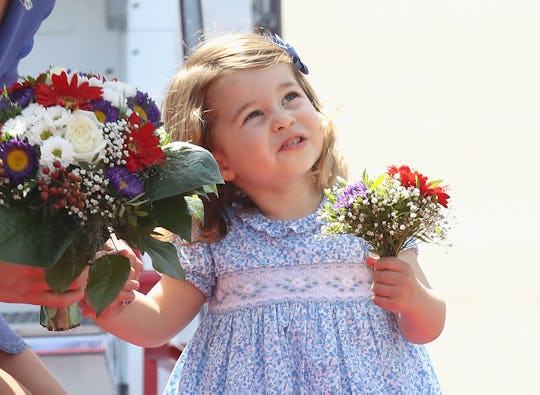 Chris Jackson/Getty Images Entertainment/Getty Images
This Might Be The Reason The Royal Family Didn't Share Birthday Pics Of Princess Charlotte
Princess Charlotte, one of the cutest royal tots around, celebrated her third birthday on Wednesday. To mark the occasion, the royal family's social media accounts shared heartfelt messages with the public. Although the notes are incredibly sweet, some fans are wondering why the Duke and Duchess of Cambridge didn't share new snaps of Princess Charlotte to commemorate her birthday — a tradition they've followed in recent years. So, what's the deal here? As it turns out, the rumored reason why Kate Middleton and Prince William won't share birthday photos of Princess Charlotte will probably make perfect sense to a lot of parents.
For the past two years, Middleton and Prince William have shared new pics of Princess Charlotte to honor her birthday. In April 2016, Middleton and Prince William gifted fans with multiple snaps of Princess Charlotte, and in April 2017, the parents chose a gorgeous portrait of their daughter posing in a precious yellow sweater. All of the pics were stinking adorable, to say the least, and the public couldn't get enough. So, it's really no surprise that people are frustrated by the lack of new photos this year. In fact, people are downright upset that Prince William and Kate Middleton opted for an old photo of Princess Charlotte donning a red jacket and a little backpack.
"Today is Princess Charlotte's 3rd birthday," one disappointed fan penned on Twitter. "There are no plans to release a photo. I am sorely disappointed. What could be their rationale for it? It's going to make a lot of people upset. What's the harm in one photo for a little girl's birthday? #PrincessCharlotte."
"If Kensington Palace thinks I'm ok with this recycled-first-day-of-school photo instead of a new portrait for Princess Charlotte's birthday, they're wrong," someone else wrote.
One account even went as far to release a poll on the matter. "How do you feel about the Cambridges' decision to not release a photo for Princess Charlotte's Birthday?" the poll asked.
Of course, there are many possible reasons why Prince William and Middleton are keeping things low-key this year. For starters, Middleton just gave birth to the couple's third child, Prince Louis. I'd imagine Middleton didn't have time to organize a high-profile photoshoot with her toddler this year considering she was busy with her last trimester of pregnancy.
Royal expert Penny Junor, however, argues that the birthday photo controversy boils down to privacy concerns. "William and Kate won't want to overexpose their children," Junor told Elle UK. "They have never been entirely conventional so I imagine they might release a photo in their own time, and it might be one Kate takes herself."
Makes sense, right? It's totally understandable that Prince William and Middleton want to protect the privacy of their kiddos — especially since their personal space is regularly compromised as it is.
Following the birth of Princess Charlotte in April 2015, the palace released a letter to the public advocating for the the family's right to privacy. The letter stated, according to Grazia:
There have in the past been a number of intrusions into the privacy of the Royal Family which in the main have been as a result of professional photographers using long distance lenses, not only to observe the Royal Family, but also to photograph them going about their activities on the Estate The warm-hearted and understandable interest in the Royal Family and the Duke and Duchess of Cambridge needs to be balanced with their right to private family life – this is especially important for a family with very young children.
And it's hard to argue against the family's right to privacy, especially now that Princess Charlotte and Prince George are getting older and are probably more conscious of their fame. Comedian Jenny Mollen touched on this exact issue in April 2018 when she explained why she doesn't post photos of her older son's face.
"I don't post Sid's face bc my account is public and not only do I not want him recognized, harassed or interrupted in his daily life, I also don't think its [sic] fair to expose him without his knowledge and understanding," Mollen wrote on Instagram. "Laz is still just a head, doesn't leave the house and is morphing on a daily basis. But soon I will be blocking his face too. Thanks for understanding."
Yep, I wouldn't be surprised if Prince William and the Duchess agree with this train of thought.
The good news for fans of the royals is that the family often makes public appearances throughout the year. The next big event is Meghan Markle's wedding to Prince Harry on May 19, and it's expected that Princess Charlotte will be photographed throughout the ceremony. Until then, however, the public should respect Princess Charlotte's right to privacy.
Check out Romper's new video series, Bearing The Motherload, where disagreeing parents from different sides of an issue sit down with a mediator and talk about how to support (and not judge) each other's parenting perspectives. New episodes air Mondays on Facebook.