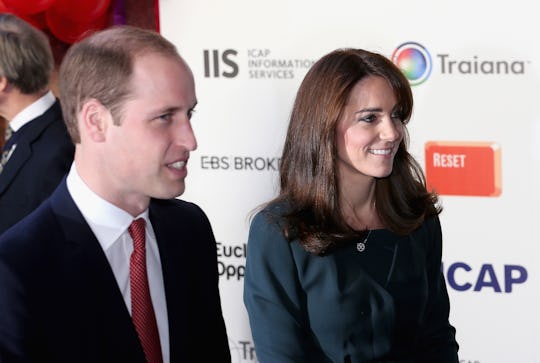 Chris Jackson/Getty
Kate Middleton & Prince William Release Another Family Photo & It's Adorably Human
They may be royalty, but Kate Middleton's and Prince William's latest family photo shows they're also just a normal family like the rest of us. Kensington Palace released the photo of William, Kate, Prince George and Princess Charlotte ahead of their first Christmas as a family of four Friday morning, and, keeping with their regular, down-to-earth style, the photo eschews formal pomp and circumstance, showing the too-cute family posing together outside in the grass (perhaps on the grounds of their country home, Anmer Hall?).
In the snap, Kate and William are crouching down to kid-level with Princess Charlotte in Kate's arms, while rambunctious toddler Prince George (in his go-to shorts and knee socks combo — gah!) plays around them. And although the sweet royal fam naturally look picture-perfect, anyone who's tried to get a group shot with a toddler and a baby can relate to the tell-tale signs of the universal toddler-and-infant family photo struggle: the toy train almost definitely brought along as a tantrum deterrent, baby Charlotte's fallen shoe, and Prince William keeping an eye on his son versus looking at the camera (seriously, photographers are practically miracle workers for being able to deliver photos like this when young children are involved!).
The photo, which will reportedly be used as the Duke and Duchess' official Christmas card, was shot by Chris Jelf, who said he "thoroughly enjoyed photographing a very lovely family, although you have to be sharp as you don't have long when there are two young children involved!," according to US Weekly. (Parents everywhere are nodding in agreement.) The latest photo follows two photos released in November of Princess Charlotte as she turned six months old, taken by Kate herself.
As usual, William and Kate are expected to join the Queen and the rest of the royal family at Sandringham on their walk to church on Christmas Day, and are then said to be spending the rest of Princess Charlotte's first Christmas at Anmer Hall with the Middletons.
No word yet on what Prince George might be getting for Christmas, but when you're third in line for the throne, chances are it's going to be pretty good.
Images: Chris Jackson/Getty; Giphy (1)