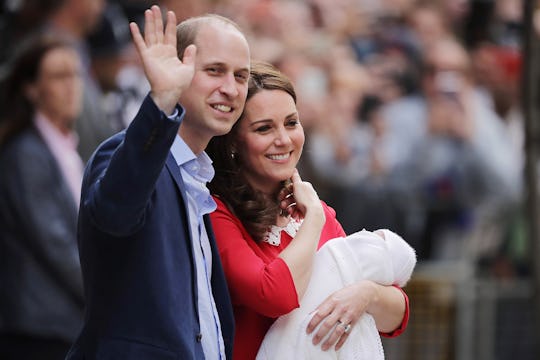 Dan Kitwood/Getty Images Entertainment/Getty Images
Kate Middleton & Prince William's Nursery For The Royal Baby Sounds Adorable
The Duchess of Cambridge and Prince William welcomed their third child on Monday, and now the press and fans alike are wondering what the nursery for the royal baby looks like. Kate Middleton was in and out of the delivery room rather quickly after giving birth to their 8-pound, 7-ounce son at 11.01 a.m. local time, according to The Sun. She and Prince William debuted him all bundled up on the steps of the Lindo Wing of the Paddington hospital just seven hours after he was born, and then they left to head home to the royal baby's new nursery, which is reportedly equal parts fitting and, of course, adorable.
In a statement, Kensington Palace said, "Her Royal Highness and her child are both doing well," according to The Sun. They were well enough to head right on over to the royal nursery in Apartment 1A in Kensington Palace, according to Express. My guess is that the nursery is a cozier place than the delivery room. Apparently, the royal nursery is decorated with characters from Beatrix Potter's classic children's books, after it was designed by the Duchess for Prince George in 2013, Express reported.
Helen Beatrix Potter, who happens to be from Kensington, wrote and illustrated more than 20 children's books starring Peter Rabbit, Jemima Puddle-Duck, Benjamin Bunny, Mrs. Tiggy-Winkle, Tom Kitten, and Miss Moppet, according to Biography.com. She published her famous The Tale of Peter Rabbit in 1902, which ultimately launched her career as a children's author. And, more than a century later, the inspiration behind the royal nursery.
The nursery is also filled with lots of new toys, some of which are gifts from the royal baby's older siblings, Charlotte, 2, and George, 4, according to The Sun.
Speaking of Prince George and Princess Charlotte, their nurseries had roughly the same color scheme, which leads some to believe that the royal baby's nursery is also a neutral space, according to House Beautiful. That probably means a lot of white and cream furniture. In fact, just before Prince George was born, the Duchess of Cambridge was photographed buying a white wicker Moses basket for him to sleep in, House Beautiful reported. And Princess Charlotte has been photographed sitting on a tiny white wicker chair, so I imagine there will be more white wicker.
White furniture is most parents' worst nightmare. But Middleton and Prince William have some help on their hands. Upon their arrival home, the royal baby was likely met by Maria Borrallo, 47, the Cambridge family's nanny who has been with the couple for a few years now. She joined the royal household in 2014 when Prince George was just 8 months old, according to The Sun. She'd reportedly trained at the prestigious Norland College, making her one of the most sought-after nannies in the country, and she's often spotted taking the kids to the Round Pond in Kensington Palace.
The royal baby will also likely meet Antonella Fresolone, who used to be one of the Queen's senior housemaids, and Fijian ex-paratrooper Tifare Alexander (known as Tif), who performs a gamut of jobs around the royal palace, The Sun reported.
Still, the royal couple is going to have their days cut out for them, as Prince George goes to school four miles away in Battersea, and Charlotte has nursery, The Sun reported. But I'm confident Kate Middleton will handle being a mother and the Duchess of Cambridge as well as she always does.
Editor's note: After publication, we discovered this article did not meet our editorial standards. There were portions that did not correctly attribute another source. It has been updated to meet our standards.
Check out Romper's new video series, Bearing The Motherload, where disagreeing parents from different sides of an issue sit down with a mediator and talk about how to support (and not judge) each other's parenting perspectives. New episodes air Mondays on Facebook.