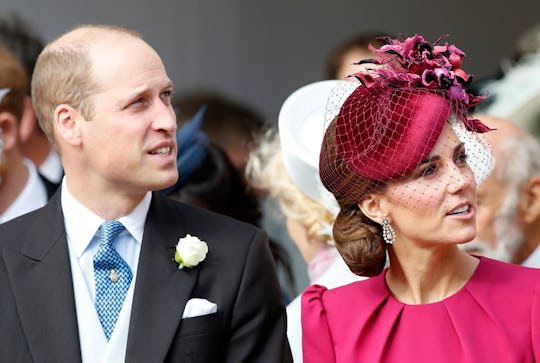 WPA Pool/Getty Images Entertainment/Getty Images
Kate Middleton & Prince William Are As Pumped About Meghan Markle's Pregnancy News As You Are
Just when you think the royal family can't consume your mind any more, they drop another bomb. Kensington Palace is going to welcome one more, as Meghan Markle and Prince Harry are expecting their first child together. The littlest royal will be joining quite the loving family. In fact, Kate Middleton and Prince William's reaction to Meghan Markle's pregnancy shows that the couple will be the best aunt and uncle a baby could ask for. And who wouldn't want Prince George, Princess Charlotte, and little Louis for cousins?
Kensington Palace announced that Markle, the Duchess of Sussex, is pregnant with her first child with husband Prince Harry early Monday morning. The official statement reported that the baby is due in the spring of 2019, according to CNN. Markle recently had her 12-week pregnancy appointment and is reportedly doing well, according to People. Along with when the baby is set to arrive, the palace's statement read, "Their Royal Highnesses have appreciated all of the support they have received from people around the world since their wedding in May and are delighted to be able to share this happy news with the public."
An official from Kensington Palace told People that Prince Harry's brother Prince William and his wife Kate Middleton are "delighted" that the Duke and Duchess of Sussex are going to be parents. The new royal baby will be in good company. Prince William and Middleton share three children together who will be the new baby's cousins: Prince George, who is 5, Princess Charlotte, 3, and 6-month-old Prince Louis.
Along with Prince William and Middleton, numerous members of both the royal family and Markle's family have spoken out about the baby either publicly or privately with the couple. The Queen and other royal family members congratulated Markle and Harry on Friday while at Windsor Castle on Friday for Princess Eugenie's wedding to Jack Brooksbank, as CNN reported, although it is unclear whether or not Markle and Prince Harry first shared their big news with the family while at the wedding.
Markle's mother Doria Ragland is overjoyed at the news as well, according to People. A Kensington Palace statement released on Monday reported that "Ms. Ragland is very happy about this lovely news and she looks forward to welcoming her first grandchild."
The news of the coming royal baby comes roughly five months after Prince Harry and Markle's May 2018 wedding. Prior to their ceremony, Prince Harry was asked about their plans to grow their family. His response made it clear that he was looking forward to fatherhood, according to The Daily Express. "I think you know one step at a time, and hopefully we'll start a family in the near future," he said. This isn't the first — or the last — time that the pair would talk about becoming parents.
Before even dating Prince Harry, Markle spoke with Lifestyle magazine and opened up about wanting to be a mother, as well as a career woman:
I also dream to have a family. It's all about balance, and I have so much happiness in my career and am fortunate to travel the world and see so many amazing things — it will also be nice to be anchored to something grounded and in the same place. Raising a family will be a wonderful part of that.
From making comments about buying baby clothes to speculating about how many children they will have, Prince Harry and Markle have spoken out numerous times about their desire to be parents. And it looks like their dreams are coming true! Fortunately for them, their little one will have quite the support system coming from both of their families. Congrats all around!