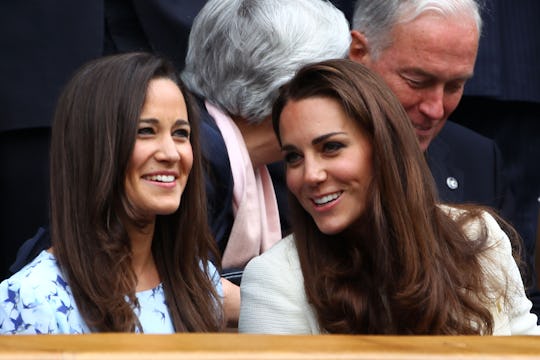 Clive Brunskill/Getty Images Sport/Getty Images
Kate Middleton & Prince William Had A Short, But Totally Sweet Response To Pippa Giving Birth
It's been a big week for royal baby news, and it's only getting more exciting. After months of anticipation, the Duchess of Cambridge's sister Pippa Middleton has delivered her first child, a baby boy. Of course, everyone who loves and follows the royal family is beyond thrilled for Pippa and her husband, James Matthews, but Kate Middleton and Prince William's reaction to Pippa giving birth is beyond sweet.
Kensington Palace has released a short statement on their reaction to having a new nephew, according to The Press Association. "The Duke and Duchess of Cambridge are thrilled for Pippa and James," the statement simply read.
Meanwhile, a spokesperson for Pippa and her husband shared in a statement with Hello! Magazine on Tuesday that the couple welcomed their first child on Monday, Oct. 15 at 1:58 p.m. local time, weighing in at 8 lbs and 9 oz. "Everyone is delighted and mother and baby are doing well," the statement read.
Though reports of her pregnancy first started circulating in April, Pippa actually confirmed that she was expecting back in June, according to Harper's Bazaar, via a column about prenatal fitness that she penned, in which she opened up about the "joys of the first trimester and the challenges she faces in adjusting her exercise regime to be as healthy as possible during this exciting time."
Pippa gave birth to her first son at St. Mary's Hospital in London, as Us Weekly reported. Notably, she entered the Lindo Wing during labor, which is where her sister, Kate Middleton, and other members of the royal family traditionally give birth.
When she announced her pregnancy earlier this year, Pippa vented about her frustration regarding the "lack of information" for women in the United Kingdom regarding prenatal health and well-being. According to Us Weekly, in her column for Waitrose, she explained:
I'm fanatical about sport and have looked at loads of books and websites on exercise during pregnancy but have been disappointed by the limited technical information on what you can and can't do. And this being my first pregnancy, I had so many questions I felt were still unanswered.
Pippa and James Matthews tied the knot back in May 2017 (a popular month for royal and royal family weddings, it seems). TODAY reported the couple married at St. Mark's, a 12th-century church located on a private Berkshire estate, where Pippa, Kate and their family attended services growing up. The network also reported that Matthews is a "millionaire financer" who met Middleton 11 years ago, when the Middletons vacationed in St. Barts, where Matthews' family owns a resort. Prior to managing hedge funds, Matthews was reportedly a professional race car driver, and started a "lucrative car dealership business" before going into property development.
As the couple lives decidedly more beneath-the-radar than their super spotlighted sister and brother-in-law, those close to them are certain the two will be pretty exceptional parents.
For instance, Hello! Magazine reported that Spencer Matthews, Pippa's brother-in-law, said that not only is the family excited for the couple to welcome their own children, but that everyone will be "very close," as the baby will already have many cousins whom he will be joining. "They will be fantastic parents and we'll all be very close. It's nice our children will be of similar age and we hope they'll be close as they grow up," he said. "We have two loving families and we all get on very well… Our friends and family are so keen to lend a hand."
It's clear that the Matthews family has nothing but love, support, and many exciting moments coming up in the next few months. For now, the world is wishing Pippa well as she adjusts to new motherhood, and hoping another column about postpartum wellness is on the horizon.