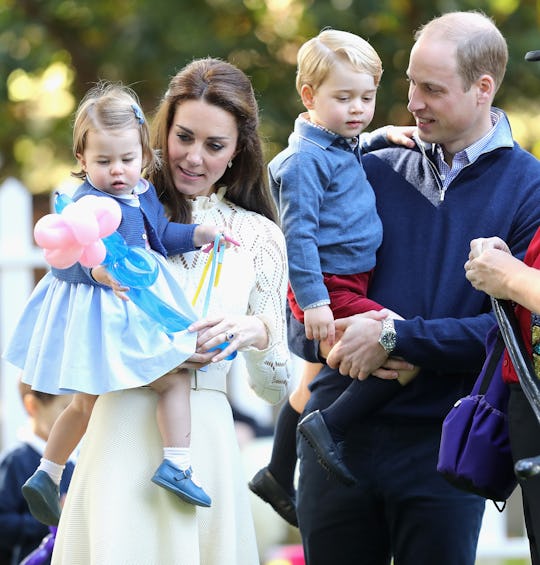 Chris Jackson/Getty Images Entertainment/Getty Images
Here's How Kate Middleton, Prince William & The Royal Kids Are Enjoying Their Summer Vacation
With all of the pomp and circumstance, the heels and the suits, perhaps one of the greatest gifts one could give a member of the royal family would be a few days off when they don't have to be a royal. Kate Middleton and Prince William's summer vacation with the kids has turned out to be just that kind of affair, as the Cambridge family is thought to be enjoying some down time right now at their country home of Anmer Hall.
Earlier this month, Hello! reported that amateur royal historian Cepe Smith tweeted a sighting of Prince William at Royal Air Force base Marham Norfolk, which Google maps puts about 25 minutes away from their home in Sandringham. Smith seemed to think the prince was traveling to and from an engagement he had in France, according to Business Insider, where he spoke at a commemoration of the Battle of Amiens. Duchess Kate is still on maternity leave, but the magazine reported that Prince William will be keeping up with his royal schedule from their country home.
That still leaves him plenty of quality family time since People reported last year that Anmer Hall is where the Cambridge family is perhaps most able to relax and just be a normal family. An insider reported to People that during a visit there last year, "there was no formality at all. It really was like any other family sitting down to lunch, with George and Charlotte eating their homemade food in their high chairs and toddling around with their toys." Unless Middleton was in yoga pants, sock feet, sans makeup with a messy bun, I'm not quite sure they're just like any other family, but it still sounds nice to me.
But the insider went on to describe what sounds like a remarkably relaxing atmosphere at the royal country home. Middleton herself opens the door "with Princess Charlotte in her arms and [then] three year old Prince George clinging to her ankles." And while they could have staff on hand, they frequently choose to be joined only by the royal nanny, Maria Turrion Borrallo, as People reported. They went on to note that favorite activities include playing in the yard, watching children's shows and doing arts-and-crafts.
Anmer Hall was a gift from the queen to the couple when they were married and they lived there full-time when Prince William was working with the East Anglian Air Ambulance, according to Business Insider. It's in a no-fly zone, according to Hello!, so they can be assured they're well protected from prying eyes from that angle at least. And it's where they keep the family menagerie. Duchess Kate also on e revealed that they have chickens, accoring to Hello!, along with a cocker spaniel, and a hamster that the children share.
Sometime after their vacation, they'll also spend a bit of time at Balmoral Castle in Scotland where the queen resides during the summer, according to Business Insider. The queen seems to expect each member of her family will come to visit at some point during her stay.
This time in Sandringham is part two of the family's vacation as they recently returned from the island of Mustique, according to Town & Country. The prince and his wife even managed to take a child-free evening for themselves as they attended the 50th anniversary of Basil Bar, which is owned by a friend, Town & Country reported. Duchess Kate has been using her maternity leave to enjoy some fun events like that, which get her out of the house but don't require her to act in an official royal capacity. Last month, for example, she and Prince William showed up at Wimbledon, the magazine noted.
With summer winding down, royal fans sure hope the little family can get in all the down time they need before school is back in session, and the demands of royal life call again.