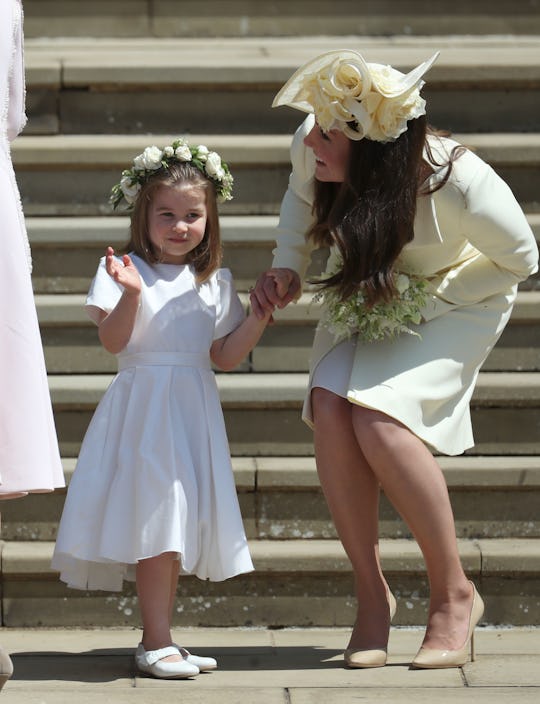 WPA Pool/Getty Images Entertainment/Getty Images
Kate Middleton Quietly Honored Meghan At The Royal Wedding In The Most Subtle Way
Less than a month after giving birth to her third child, Kate Middleton escorted a very special bridesmaid to the royal wedding: her daughter Princess Charlotte. And on a day when scores of people would have been all too eager to focus on the Duchess of Cambridge's look, Kate Middleton quietly honored Meghan Markle at the royal wedding in a really understated way.
This was Kate's first public appearance since the birth of Prince Louis (who was the only royal kid not to make it to the wedding), so all eyes were definitely on her to see what she'd be wearing. She was infamously very nearly upstaged at her own wedding by her sister and maid-of-honor Pippa Middleton, who looked almost too stunning in her bridesmaid gown. So Kate knows a thing or two about how to refocus the spotlight. Instead of debuting a bold fashion statement, she opted instead to wear a dress to Harry and Meghan's wedding which she'd worn on two previous occasions. That's right, she three-peated an outfit for the royal wedding.
The frock in question, according to People, is an off-white, custom-made Alexander McQueen coat-dress. She first wore it in 2015 to Princess Charlotte's christening, and then wore it again the next year to the Trooping the Colour, an official birthday celebration for the Queen. Wearing a dress we know (and love) her in is the ultimate gesture of deference to Markle, who Kate obviously believed should be allowed to shine on her big day.
For the royal wedding, Kate opted to style the dress with a Philip Treacy hat and a pair of Jimmy Choo heels. In addition to her daughter Charlotte accompanying Meghan down the aisle as a bridesmaid, Kate's oldest son and heir to the throne, Prince George, also walked in the wedding party as a page boy. Meanwhile, Kate took a seat in the Quire near the altar next to Camilla, Duchess of Cornwall, while her husband stood next to Prince Harry at the altar as his best man.
Markle has a close-knit group of friends and reportedly didn't want to be forced to choose between them for a designated maid of honor. So she decided not to have one and instead populated her wedding party entirely with children (very small ones, at that, and they all behaved perfectly). All the bridesmaids and page boys were either children of royals or Harry and Meghan's own godchildren.
Given that Kate's wedding was just seven years ago — and that it was the first royal wedding in 30 years — folks were bound to compare the two princesses' weddings and the women themselves. There's already been a ton of focus on how, back in 2011, Middleton was quite camera-shy while Prince William did most of the talking and joking when the couple gave joint engagement interviews. By contrast, Markle, an actress and celebrity, knows how to work cameras, crowds, and reporters with ease, while Harry is the quieter one in their relationship. Both women are extremely poised, but manifest it in different ways. Of course, this leads to inevitable comparisons, which can be tedious at best, and disrespectful at worst.
However, Kate made a pretty significant effort to tamp down on any such speculating by wearing what she did. She can't stop people from talking but she can give them as little ammunition as possible to start nitpicking her new sister-in-law. By wearing an old dress, one we've seen her in twice before, she effectively neutralizes any attempt by others to focus on her instead of Meghan on her wedding day.