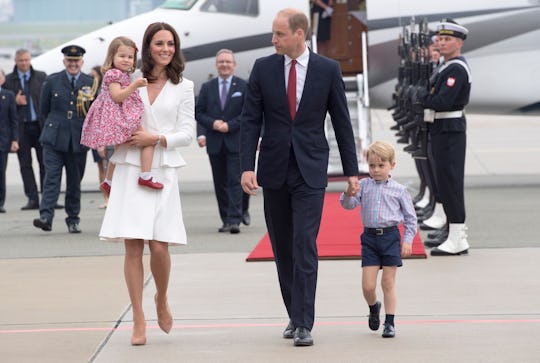 Pool/Getty Images Entertainment/Getty Images
Kate Middleton Quotes About Her Kids Show She Is More Than Prepared For Baby Number 3
Kate Middleton knows a thing or two about saying the right things — she is the Duchess of Cambridge, after all and has to be attentive to everything she says in public. This includes her comments about her two young children, Prince George and Princess Charlotte. With their newest addition to the family on the way, Kate Middleton's quotes about her kids not only show that she's an amazing mother, but that her new child will be in great company.
Middleton is expected to give birth in the upcoming weeks and she made her final appearance in public this past week before retreating to her home in preparation for the baby. Middleton and Prince William are expected to welcome their third child in April, according to People, and the moment could not come soon enough. While people are anticipating the arrival of the third child (and the countdown to their arrival begins) people can mull on what Middleton has said about her kids to take a gander as to what personality traits this new child might have or what royal parent that it might take after.
There is so much that people will find out about the new royal baby once it is here but Middleton's quotes about her kids can suffice until then.
On Making Food At Home
During a recent appearance at the Commonwealth Big Lunch, according to Architectural Digest, Middleton revealed that her kids love making pizza dough with her and each other. "I've done that with George and Charlotte — making pizza dough," Middleton said. "They love it because they can get their hands messy."
What little kid doesn't love making a mess on purpose?
On The Importance Of Communicating With Each Other
In 2016, Middleton published a blog post highlighting the importance of children's mental health and opened up about how she approaches her kids and their feelings — by encouraging them to talk freely and openly about them to create a positive. Middleton said, according to People:
We hope to encourage George and Charlotte to speak about their feelings, and to give them the tools and sensitivity to supportive peers to their friends as they get older.
On The Values She Hopes To Instill In Her Kids
Just last year, Middleton opened up about the kind of future she hoped to see for her children and the values they will take with them when they get older. Middleton said, according to People:
My parents taught me about the importance of qualities like kindness, respect, and honesty. I realize how central values like these have been to me throughout my life. That is why William and I want to teach our little children, George and Charlotte, just how important these things are as they grow up.
On Her Kids Presenting A Challenge
Although Prince George and Princess Charlotte might seem like they're super easy kids — Middleton revealed during a speech in London last year that being a mom (especially to two royals), isn't the easiest task she has been faced with. Middleton said, according to Vogue:
Personally, becoming a mother has been such a rewarding and wonderful experience. However, at times, it has also been a huge challenge. Even for me, who has support at home that most mothers do not. Nothing can really prepare you for the sheer, overwhelming experience of what it means to become a mother. It's full of complex emotions of joy, exhaustion, love, and worry all mixed together.
On Their Favorite Activities
Just because Prince George and Princess Charlotte live in a castle and are in line for the royal throne doesn't mean they don't have normal childhoods — they partake in the activities that any young kid would. On two separate occasions in 2016, according to Express, Middleton revealed that Prince George not only loves art but he loves baking, too. Talk about being creative. "George loves three dimensional sculptures," Middleton said during an appearance at the Natural History Museum in London, according to Express. "He does come here quite often."
And during August 2016, according to Express, Middleton revealed that her and Prince George's attempts at baking often go astray. "When I try to make [crispy rice cakes] with George at home, chocolate and the golden syrup goes everywhere," Middleton revealed. George makes so much mess. It's chaos."
Although Middleton may live the life of a royal, her quotes about her kids and her role as a mom show that she's not only super relatable, she's humble about it, too.