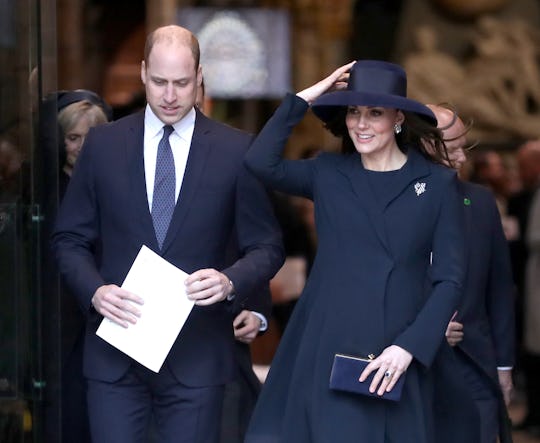 Chris Jackson/Getty Images Entertainment/Getty Images
Kate Middleton Quotes About Prince William Show Their Love Is The Real Deal
Meghan Markle and Prince Harry's highly-anticipated wedding is fast approaching, and unsurprisingly, the whirlwind relationship between the beloved royal and the American actress has captivated public attention. But let's be honest, it's really Prince William and his former college girlfriend, Kate Middleton who gave us the OG millennial royal love story. These days, of course, they're the Duke and Duchess of Cambridge, who are currently eagerly awaiting the arrival of their third child together. But looking back at Kate Middleton quotes about Prince William, it's clear that they're probably the closet thing we'll ever have to a real-life fairytale.
Middleton — aka Catherine, the Duchess of Cambridge, thank you very much — might now be the poised, fashionable, well-spoken working royal we all know and love, but when her photos first began appearing in magazines, she was just a 20-something student at the University of St. Andrews in Scotland, according to Business Insider. Prior to the announcement of the her engagement to Prince William eight years later in Nov. 2010, she hadn't yet actually spoken publicly about her relationship (or anything else for that matter), but now, nearly seven years into their marriage, we've learned a lot about the couple who will likely one day become king and queen.
She Shed Light On Prince William's Romantic Side
When Kate and William's engagement was officially announced in 2010, it was a big moment for royal fans — not only because it meant a royal wedding was on the horizon, but because it also meant they'd actually get to see the future duchess speak in an interview for the first time. And she did not disappoint.
The interview naturally kicked off with questions about the proposal, and Prince William explained that he "took her up somewhere nice in Kenya" and proposed, to which Kate jokingly replied, "it was very romantic. There's a true romantic in there!"
And Gushed About How Supportive & Caring He Is
Another detail the duchess opened up about in her first-ever television interview? That Prince William has always has her back. According to Hello!, Kate said,
You know, over the years William has looked after me, he's treated me very well — as the loving boyfriend he is, he is very supportive of me through the good times and also through the bad times.
Later, on her first royal visit to Canada after her 2011 wedding, Kate echoed that sentiment, according to People, and told former Army Colonel Robert O'Brien, "I'm very, very lucky. He looks after me as much as possible."
As It Turns Out, Their First Meeting Was A Little Awkward
Another thing the couple discussed in their post-engagement interview? The first time they met as students at St. Andrew's, according to The Telegraph. And although I'm sure they would have liked for it to have been love at first sight, the reality, according to Kate, was quite different. She explained,
Well I actually think I went bright red when I met you and sort of scuttled off, feeling very shy about meeting you. Actually William wasn't there for quite a bit of the time initially, he wasn't there for Freshers Week, so it did take a bit of time for us to get to know each other but we did become very close friends from quite early on.
But Their Time Living Together In Wales Was A Dream
For three years, the couple lived a quiet life together in a cottage in Anglesey, Wales, while Prince William worked as a search and rescue pilot for the RAF. They eventually moved into an official royal residence to start a family, but in 2016, the couple returned to Anglesey for an event, where the duchess spoke nostalgically about their newlywed days. According to The Telegraph, Kate told RAF Group Captain Steve Bentley, "It was such a special time for us. It was the start of our life together really."
She's Not Afraid To Call Him Out In Public
They may be royalty, but one of the best parts of William and Kate's joint interviews is that they have absolutely no problem poking fun at one another. When Kate was asked in their engagement interview whether it was true that she'd had photos of William up on her wall in her room as a teen, for example, she quipped, "No, I had the Levis guy on my wall, not a picture of William, sorry." And more recently, when the couple stopped by BBC Radio 1 for a joint interview, she had a few more one-liners up her sleeve.
At one point in the interview, William revealed he actually texted into the station in the past using a fake name while he was heading to work as an air ambulance pilot. Kate's response? "What are you doing texting in the car?" ("I have not texted whilst driving. Because that is illegal," was William's reply).
In the same interview, the couple also joked about giving their children's artwork as gifts to the Queen, and William explained, "Now that the great-grandchildren are around, they can make stuff, and of course that goes down really well."
William was then asked if that meant he, too, did arts and crafts, but the prince clarified that it was actually George who made the DIY artwork. Kate then chimed in and said, "Are you taking credit for [his] arts and crafts?" (Nice try, dad.)
Honestly, there probably isn't a whole lot about the Duke and Duchess of Cambridge that resembles the average young married couple. They are literal royalty and live in an apartment in a literal palace. They almost certainly never squabble over paying the bills or whether one of you spends too much money buying unnecessary items at Target, and they also have a household staff that would certainly help when you have two young kids running around.
At the same time though, part of what endears the world to William and Kate is that they do seem to be pretty relatable, at least in the way they interact with each other. And though royal marriages aren't always known to be the strongest, it seems like the relationship between them is rock solid.