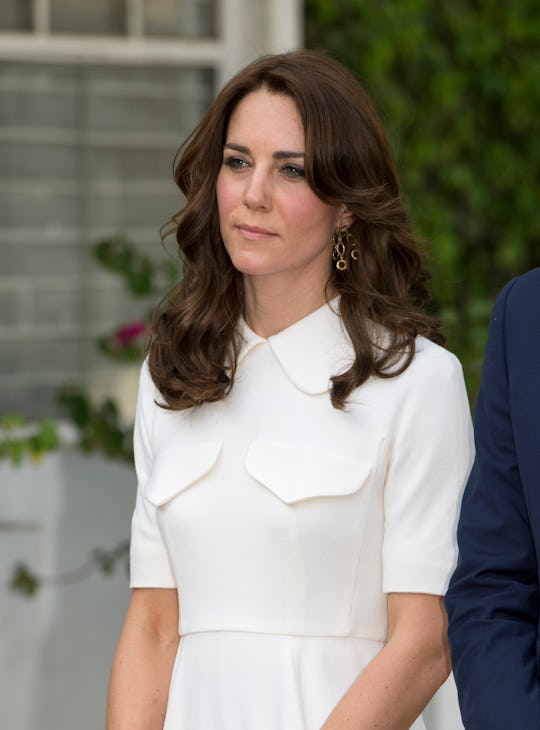 Pool/Getty Images Entertainment/Getty Images
Kate Middleton Responded To Questions About Her Figure & It Was Perfect
Just like in Disney movies, princesses don't always get their way, all the time — sometimes they have to face off with uncomfortable moments and inappropriate questions too. During an appearance this week, the very real Duchess of Cambridge, Kate Middleton, responded to questions about her figure in the most pointed, polite, and witty way. While celebrating Queen Elizabeth's 90th birthday in Delhi, Professor Bulbul Dhar-James, a guest at the party, told People magazine that he asked the Duchess of Cambridge how she stayed so thin after having two children. (Cue the gasps from onlookers here.) Middleton took it in stride. "I am running after my kids," the new mom responded. Oh, to be a fly on that wall.
Dhar-James told People that he even pressed the princess on her manners. "Aren't you tired of smiling?" he asked. Again, Kate was all professional. "I'm just reciprocating," she reportedly responded. "Everyone is so warm."
Her response is almost too perfect. The quick retort to a question about her weight loss after having children is totally on point and dismisses the question all at the same time. It's almost Violet Crawley worthy — not too snarky, probably true, and should have made the questioner stand down.
Kate Middleton regularly wows most everyone in the face of bold questions or criticism. Whether it's party guests asking about her pant size or braving the rain in yoga pants while paparazzi snap away, the 33-year old mother of two remains so very real and so very gracious about it all.
Middleton's weight remains a topic of discussion in some circles (despite the fact that she's smart, talented, and, you know, a princess). Even before she was married and had two children, her dress size was fodder for slideshows, even in the American media, with gossip hounds documenting every change in her figure. In fact, whether it's due to the royal family's handling of media or how people search for news about the princess, most Google searches concerning "Kate Middleton", as I can attest from my own experience on multiple occasions, turn up results about how the princess is either too fat or too skinny, or unsettling articles about how all women should be thinking about their body image and how it affects "the world." (Go ahead, Google the Duchess just by her name and see what you can turn up that isn't about her clothes and how — or worse, why— she's wearing them.)
Talk about pressure. Still, if anyone can handle that sort of scrutiny, it's Kate Middleton. Her love life and marriage to Prince William has all been meticulously documented in the press over the years, much like every other celebrity. But the Duchess of Cambridge holds a strange position in the world. No one, for example, would dare ask first lady Michelle Obama about her diet or Vladimir Putin about his workout schedule, lest they be crucified by the media. Kate Middleton is royalty and is still not immune to rude questions at public events.
Kate Middleton's comments this week then are all the more refreshing. The real-life princess has always been a tough woman with many natural talents, parenting included. But batting away rude questions without completely disparaging other guests at a party? That's a skill.