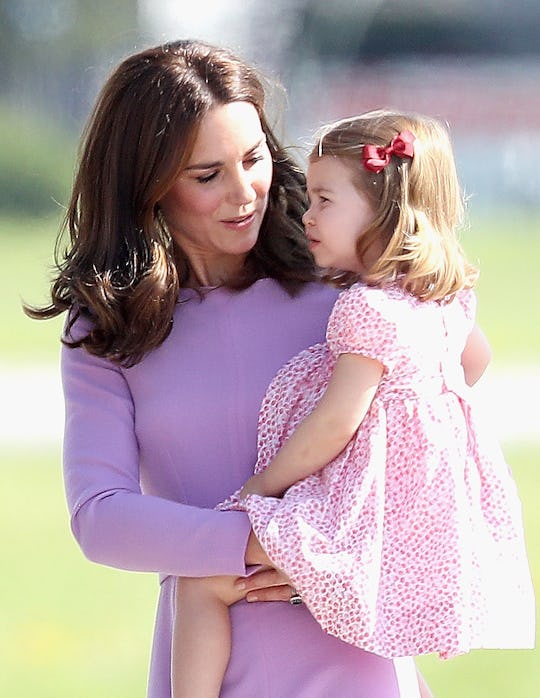 Chris Jackson/Getty Images Entertainment/Getty Images
Kate Middleton Admits It Takes A "Whole Community" To Raise A Child & Every Parent Can Relate
Anyone who pays any attention to the British royal family is likely aware that Kate Middleton is currently pregnant with her third child. Unfortunately, she's recently been suffering from severe morning sickness, and as a result, she had to miss her son George's first day of school in September. Middleton made it clear while speaking at the opening of the yearly School Leaders Forum that having a school community has been very important for her family, and thankfully, it sounds like she's now feeling well enough to be the one to drop George "at the school gates." She told the audience at the event it clearly "takes a whole community to help raise a child," and that is an attitude a lot of parents can probably strongly relate to.
At the forum, Middleton stated, according to People:
As a mother, just getting used to leaving my own child at the school gates, it is clear to me that it takes a whole community to help raise a child. Whether we are school leavers, teachers, support staff or parents we are all in this together.
And that's a really lovely sentiment. It sounds like it doesn't matter how famous or royal you are, it's still nerve-racking for Middleton, like any mom, to leave her kids in the hands of other people all day. But she's counting on George's school community to help raise her oldest child, and a lot of parents are likely to understand that "it takes a village" mentality.
As the royal patron of Place2Be — an organization in the United Kingdom that "provides emotional and therapeutic services in primary and secondary schools" — Middleton sat in the audience with other delegates during discussion on how schools can help support mental health strategies, according to E! News. Both Prince William and Middleton have spoken out about ending the stigma about mental health in the past, so this is a cause that is clearly very important to Middleton.
Speaking of mental health, Middleton reportedly focused on that during her speech to the delegates at the forum as well. She told the crowd, according to People:
Collaborating with experts like yourselves, we're looking at providing easy access to information and practical tools to support teachers, parents and children feel comfortable talking about their mental health. We are all here today because we share the belief that every child deserves the chance to fulfill their potential.
Her words made it obvious that Middleton cares a lot about mental health and the well-being of all kids, and not just her own.
And when it comes to her own children fulfilling their potential, Middleton has spoken about how important it is to instill qualities like "kindness, respect, and honesty" in her kids in the past. She has said that those things are "just as important as excelling at maths or sport," according to Hello! Magazine.
George and Charlotte, Middleton and Prince William's daughter, are very fortunate to have a mom who cares a lot about their upbringing, and who understands that there are a lot of people involved in shaping a child. Middleton will almost definitely have the same attitude when it comes to her third baby, who is due in April 2018, according to Vanity Fair.
And even though Middleton has been dealing with extreme bouts of morning sickness with the latest pregnancy, she has made other public appearances besides the one at the School Leaders Forum since she first announced she is expecting again. For example, she recently attended a reception for World Mental Health Day at Buckingham Palace, Vanity Fair reported.
It's wonderful that Middleton is so open to talking about mental health, and that she really seems to understand the team effort that goes into raising kids. George and Charlotte, and the new royal baby still to come, are definitely very lucky kids.
Watch Romper's new video series, Romper's Doula Diaries:
Check out the entire Romper's Doula Diaries series and other videos on Facebook and the Bustle app across Apple TV, Roku, and Amazon Fire TV.