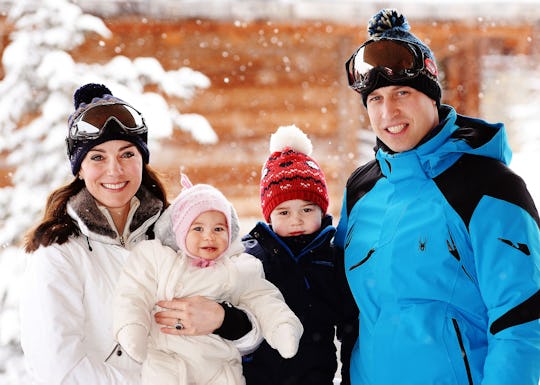 JOHN STILLWELL/AFP/Getty Images
Kate Middleton Says Prince George Has An Adorable Nickname For The Queen
It doesn't seem like too long ago when the world was first introduced to the charming Kate Middleton as Prince William's girlfriend in 2010, and then his fiancée. Who can forget watching the wedding in 2011, crying, and wishing you had a prince to marry of your own? (Just me? OK.) It's been a few years since then, but Kate Middleton is still charming the pants off of everyone in the world, in addition to her job of being a mother to Prince George and Princess Charlotte. In spite of the Queen of England being his great grandmother (no big deal or anything), Kate Middleton says Prince George has an adorable nickname for the queen — and if anyone can give Queen Elizabeth a nickname, it's definitely her great-grandson.
Prince George, now 2 years old, calls his Great Grandmother by a specific nickname. It is kind of like calling your grandma "MeeMaw" because "Grandmother" or "Great-grandmother" sounds way too formal. So, what is this specific nickname exactly?
Well, in an ITV special called Our Queen At Ninety, Middleton revealed that the young prince calls his grandmother "Gan-Gan." Gan-Gan? How adorable is that? Can you imagine how cute the toddler is running around Buckingham Palace calling the Queen, Gan-Gan?
George is older brother to Princess Charlotte, who was born in May of 2015, making the youngest royal almost 1 year old within the next few months. Middleton spoke of the Queen's relationship with her children in the TV special. "Its very special having a new little girl to the family. We're very lucky that George got a little sister," Middleton said.
According to Middleton, the Queen was thrilled when she found out Prince William and Middleton were having a baby girl. "I think, when we came back to Kensington [Palace] she was one of our first visitors here," Middleton said. "She is very fond of Charlotte, always watching what she is up to."
It sounds like the two great grandchildren's relationship with the Queen is super fun and normal — just like something you would have with your own great grandmother, aside from the fact that his is great grandmother is the Queen of England. Middleton continued:
She always leaves little gifts in the room when we go to stay with her. I think that just shows her love for her family.
Can this family get any cuter? Just when you thought the Duke and Duchess of Cambridge's family could not get any more perfect, Middleton has to reveal that they are just like us. Except a lot more royal.