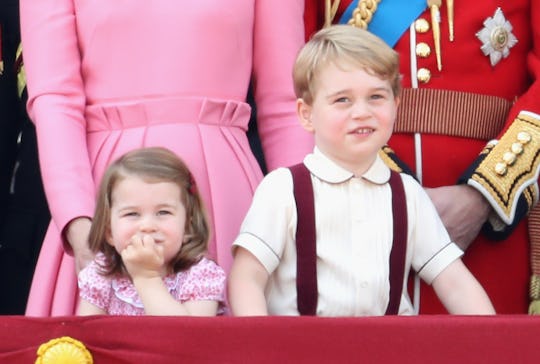 Chris Jackson/Getty Images Entertainment/Getty Images
Prince George & Princess Charlotte Also Love Getting "Messy" Making This In The Kitchen
When many people think of the royals, they imagine tiaras and jewels along with perfectly blown-out hair (looking at you, Kate Middleton). But, as it turns out, they're more like the rest of mere mortals than you might have imagined. Case in point: The Duchess of Cambridge, who's currently pregnant with her third child, recently revealed Prince George and Princess Charlotte love getting "messy" in the kitchen and love making something every little kid can't get enough of. No, not mac n' cheese and not hot dogs either. The other top contender on the kid's menu.
Yep, pizza.
Prince George, 4, and Princess Charlotte, 2 — third and fourth in line to the throne, respectively — reportedly love to make pizza in the kitchen with their mother for the same reason that most kids do: they love getting their hands messy. Attending and volunteering at St. Luke's Community Centre on Thursday, according to Hello! Magazine. Middleton helped prepare food for a lunch and opened up about what her own little ones love cooking. "I've done that with George and Charlotte — making pizza dough. They love it because they can get their hands messy," she said, according to Hello! Magazine.
Ah, young heirs to the throne, they're just like your own kids! Well, ya know, except for the fact that they might one day reign over the United Kingdom. But whatever, they love making their pizza and eating it, too!
Middleton then turned to a translator in order to make herself even more clear, according to Hello! Magazine, and said, "I was just saying how I really enjoy making pizza dough with George and Charlotte because they like getting their hands messy." So considerate of her. She had also revealed at the same event that she wasn't exactly bilingual. When asked if she spoke Spanish, as her nanny does, Middleton reportedly chuckled and said, "sadly, no," the publication reported.
Of course, this visit was significant for more than just Middleton's sweet anecdotes about her children. According to E! News, Middleton's outings on Thursday were her last known scheduled events before she takes maternity leave. "The Duchess of Cambridge attended her last official engagement before taking maternity leave on Thursday," E! News reported. Middleton is expected to give birth sometime in April, according to Vogue, and even though she's a duchess, she isn't planning anything too fancy.
Middleton is reportedly planning on reusing a lot of items from Prince George and Princess Charlotte's nurseries in her new little one's own room. According to Us Weekly, the baby's nursery "will be filled with hand-me-downs and George and Charlotte's old toys." Oh, and that's not the only non-royal way Middleton and Prince William are preparing for baby number three. Us Weekly also reported that the couple won't be hiring any additional help for their little one. "They feel they can handle everything with the same arrangement as before," the source told the magazine, likely referring to the family's existing nanny.
So clearly, making messy pizzas isn't the only way the soon-to-be family of five likes to stay humble. And while many might assume that, given the fact that Princess Charlotte is, in fact, a princess, she wouldn't be too thrilled at the idea of a younger sibling. But on the contrary, Us Weekly has also reported that the 2-year-old is "looking forward," to having a younger sibling.
Apparently, Princess Charlotte and her older brother are happy to have another kid to play with and, eventually, make pizza with. And until that little baby is born, it's likely a pretty safe bet that the family of four is savoring and enjoying every moment together before the baby is born. And hopefully, Prince George and Princess Charlotte will be able to teach their little brother or sister how to make pizza, the way only royals can.
Check out Romper's new video series, Bearing The Motherload, where disagreeing parents from different sides of an issue sit down with a mediator and talk about how to support (and not judge) each other's parenting perspectives. New episodes air Mondays on Facebook.