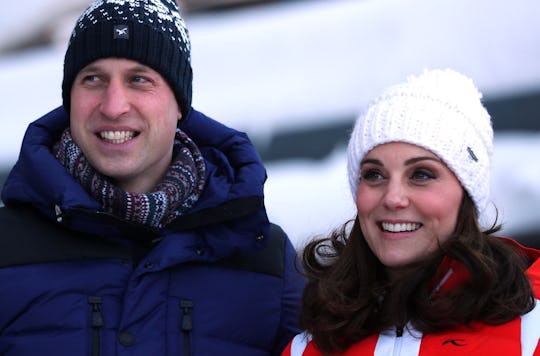 WPA Pool/Getty Images Entertainment/Getty Images
Prince William Is Apparently "In Denial" About His Third Baby's Birth, & Dads Will Totally Get It
With all the talk of Prince Harry and Meghan Markle's upcoming wedding, sometimes the fact that Kate Middleton and Prince William are expecting a baby ends up shoved to the background when it comes to media coverage of the British royal family. And while he obviously isn't completely ignoring the fact himself, it sounds like even Prince William is having a little trouble keeping the reality of his wife's third pregnancy in mind. Kate Middleton said Prince William is "in denial" about the arrival of their third baby, and her joke was probably pretty relatable to a lot of parents of multiples out there.
Middleton visited St. Thomas' Hospital in London on Tuesday, where she met with patients and their families, according to Ok! magazine. The Duchess of Cambridge was there to help launch the Nursing Now campaign, which focuses on raising the status and profile of nurses, according to The Daily Mirror. And when Middleton met the family of one young patient at the hospital, the topic turned to the impending birth of her third child.
Kate reportedly joked with Jamie Parsons, the father of a 10-month-old being cared for at the hospital, about her husband, Prince William, and how he's dealing with being a dad for a third time. Parsons told People:
I was saying, 'Congratulations, best of luck with the third one.' She said, 'William's in denial.'
Though the exchange was clearly made in jest, there's some honesty behind that statement that a lot of parents of multiple children can probably relate to. Even if Prince William and Middleton are royals who undoubtedly have every resource and professional on hand to help them with their children, it's probably still daunting to think about life after they add a third member to their little family.
Some "regular," non-royal parents argue that having one child seems less stressful, and that having one child means they don't have to worry about things like conflicting schedules or a kid accusing them of playing favorites, according to Upstate Parent. Obviously the choice to have one kid, multiples, or no kids at all is up to each individual and their partner, and factors like stress or schedules impact people's choices when it comes to kids in various ways. But one thing that is definitely true for every family that already has one kid is that things just change if you add another one to the brood. Not necessarily in a good or bad way — a new baby just makes things different.
And that's sure to be the case with Prince William, Middleton, and their two children, even though they'll have plenty of help with the adjustment to becoming a family of five. Prince William and Middleton currently share a son, Prince George, and their daughter, Princess Charlotte, according to Glamour. They haven't yet revealed to the public whether they are welcoming a second boy or girl this time around, but it wouldn't be a surprise if William is feeling the stress of becoming a father again either way, and is "in denial" as a result. He's clearly not actually denying the fact that a third baby is coming, but joking about not believing it certainly seems like kind of a "dad joke" thing to do.
The popular speculation surrounding the third royal baby at the moment is that it's a girl, and she'll be named Mary, Glamour reported. But there's been no actual confirmation of either of those rumors, and that news is not the sort of thing Buckingham Palace would play fast and loose with. All the public really knows for sure is that Middleton is pregnant, and due in April, according to POPSUGAR.
As for how Prince William is really dealing with the upcoming birth of his third kid, no one truly knows that for sure besides William himself. But Middleton likely has a good idea of how he's coping, and she seems to be in good spirits about the whole thing if she's joking with other parents about it. No matter what, they've got limited time to get used to the idea of a third baby, because they'll be joining the royal family very soon.
Check out Romper's new video series, Bearing The Motherload, where disagreeing parents from different sides of an issue sit down with a mediator and talk about how to support (and not judge) each other's parenting perspectives. New episodes air Mondays on Facebook.