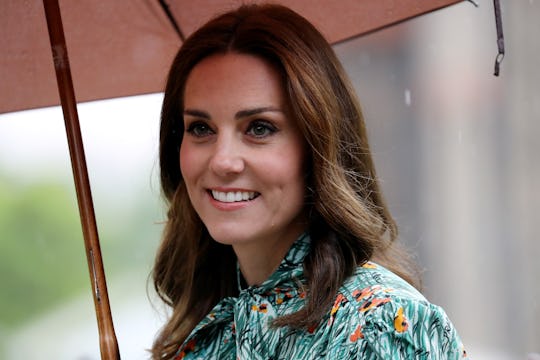 Chris Jackson/Getty Images Entertainment/Getty Images
Kate Middleton Just Made Her First Appearance Since Announcing Her Pregnancy
Between raising two young children, a growing baby, and numerous royal outings, the Duchess of Cambridge manages to find time to devote to causes that matter to her. In fact, just this week, Kate Middleton taught children about mental health in her first appearance since announcing her third pregnancy. In the pre-recorded video, Middleton helps kids find the words that they need to express how they're feeling.
This video supports a mental health initiative for young children in the United Kingdom. She is backing the "You're Never Too Young To Talk Mental Health" campaign, which aims to help elementary school children learn to talk about their mental health. Her message to children is contained within an introduction to an animated children's film that was made by children and teachers. The film guides children through a variety of mental health situations and teaches them how to cope with potential problems.
In the video, as Vogue reported, Middleton addresses the children informally and explains the importance of understanding mental health. She says:
It helps us all talk about our mental health, what to say and who to talk to when we have feelings that are too big to manage on our own and how to listen and help if one of our friends is finding things difficult.
Along with the video, Middleton also wrote an introduction for the leaflet that informs parents and caregivers on how to start conversations about mental health. According to Hello Magazine, she wrote in the leaflet:
As parents, we all want our children to have the best possible start in life. Encouraging children to understand and be open about their feelings can give them the skills to cope with the ups and downs that life will throw at them as they grow up.
She went on to explain how important it is to have these discussions with children in order to help them learn to ask for help if and when they need it. According to Hello Magazine, she wrote:
It's important that our children understand that emotions are normal and that they have the confidence to ask for help if they are struggling.
The "You're Never Too Young To Talk Mental Health" campaign is a product of the Anna Freud National Center for Children and Families. Vogue reported that the center's research showed half of all life-long mental health issues begin by the age of 14. Additionally, 20 percent of adolescents may go through a mental health issue at any time, according to the organization.
Professor Peter Fonagy, the institution's chief executive explained to The Daily Express the importance of teaching children to communicate their feelings:
One of the most effective things we can do is to give children the language they need to discuss mental health and encourage them to have open conversations at home and at school.
He went on to explain that understanding the problem at hand is the basis of addressing it. "Helping children identify problems that they or their friends are having is the first step towards resolving those problems," he told the British news outlet. "If we can help children who are struggling with their feelings or experiences, they will be happier and perform better at school."
According to the Centers for Disease Control and Prevention, up to one in five American children suffers from a mental disorder each year. Despite this large segment of the population in need of mental health care, The Atlantic reported that the majority of American children are without access to such care at school. The Child Mind Institute's 2016 Children's Mental Health Report found that only 23 percent of pre-kindergarten programs offer visits from psychiatrists or psychologists.
Mental health issues in children can have a lasting effect. Kids Mental Health reported that children who suffer from mental health issues struggle to acclimate to various situations. Also, if these children remain untreated by a mental health professional, their issues and behaviors are likely to follow them into adulthood.
With Middleton at the forefront of removing the fog around mental health and encouraging others to discuss it openly with children, more and more kids will get the help the need.
Watch Romper's new video series, Romper's Doula Diaries:
Check out the entire Romper's Doula Diaries series and other videos on Facebook and the Bustle app across Apple TV, Roku, and Amazon Fire TV.