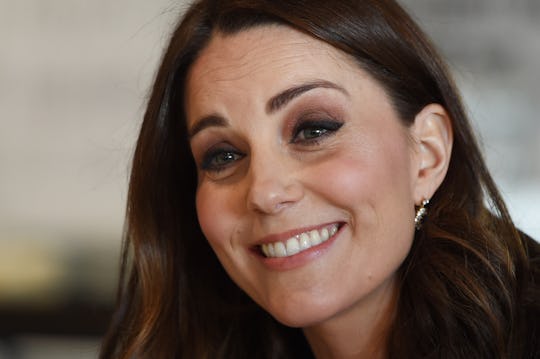 WPA Pool/Getty Images Entertainment/Getty Images
Kate Middleton Will Reportedly Have A Home Birth, & The Reason Why Is Totally Relatable
In just a few short months, Kate Middleton will welcome her third child into the world. It's an exciting time, to say the least, and many of her fans *can't wait* to meet baby number three. But, as with any royal birth, there are some concerns about privacy and safety. Remember all the chaos surrounding Prince George and Princess Charlotte's births? Crowds of people and paparazzi camped outside the hospital for both births. And considering how hectic royal births can be, it's really no surprise that Kate Middleton will reportedly have a home birth this time around, according to Express. In fact, a lot of parents will probably be sympathetic to Middleton's rumored reasoning for supposedly wanting a more private birthing experience.
Shortly after Prince George was born on July 22, 2013, Middleton and her husband, Prince William, debuted him to the massive crowds waiting outside of St. Mary's hospital in London. For the occasion, Middleton wore a light blue dress with polka dots and Prince George looked adorable swaddled up in a simple white blanket. By all accounts, it was a picture perfect event.
And two years later, in May 2015, Middleton did the same song and dance when Princess Charlotte made her grand entrance. Similarly to Prince George's birth, a dressed up Middleton posed for countless photographers before she left the hospital with her new baby.
Although Middleton was probably happy to share her joy with the world for those two births, it's obvious both experiences were probably also very tiring and a bit daunting.
For instance, a lot of people slammed Middleton for her "post-baby belly" after she gave birth to Prince George. Apparently, some fans thought Middleton should have hidden her bump with a baggier dress. Yep.
Unfortunately, Middleton also faced ridiculous criticism after the birth of Princess Charlotte. Many spectators felt that Middleton appeared too perfect and done up after giving birth, and the backlash inspired a heated debate on the internet about how parents should look postpartum.
Of course, no parent should be subject to widespread criticism mere hours after they give birth (or ever, for that matter), and Middleton shouldn't have to worry about privacy concerns during what is supposed to be such a joyous time.
The good news is Prince William is totally supportive of Middleton wanting to have a home birth to avoid the drama of a hospital birth. Additionally, Prince William and Middleton both don't want to interfere with the day-to-day operations of their go-to hospital.
A source who claimed to be close to the couple revealed, according to HuffPost:
Above all they [Middleton and Prince William] both agree that having a home birth would save a massive intrusion into the day to day running of any hospital where she gave birth. They were very concerned about the chaos caused with the first two children as hundreds of press and public camped outside for several days, and they would like to avoid a repeat if they could.
Not to mention, Prince William and Middleton both think it would be "lovely for the family to have a home birth, particularly for George and Charlotte," according to Metro UK.
And if Middleton does choose to have a home birth, it will align with royal tradition.
Prior to Princess Diana, it was tradition for members of the Royal Family to give birth at home. In fact, Prince William was the first "future king" to be born in a hospital, according to the BBC.
Although it remains to be seen if Middleton will give birth at home, she has a lot of good reasons to avoid a hospital this time around. Middleton deserves privacy and a sense of peace when she gives birth, and this is a sentiment a lot of parents can probably sympathize with.
Check out Romper's new video series, Romper's Doula Diaries:
Watch full episodes of Romper's Doula Diaries on Facebook Watch.