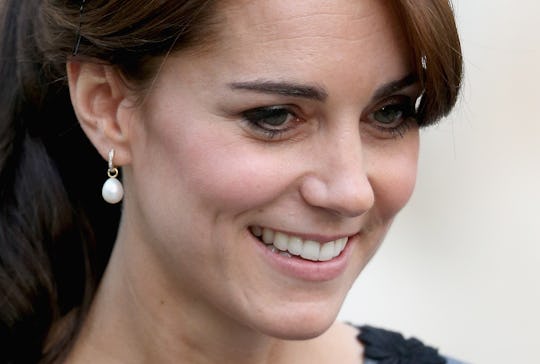 Chris Jackson/Getty Images Entertainment/Getty Images
Kate Middleton's 4 Best Quotes On Children's Mental Health, Because The Issue Needs More Attention
It isn't everyday someone guest edits for The Huffington Post, and it certainly isn't everyday Kate Middleton, The Duchess of Cambridge, serves as said editor, but on Wednesday, that is precisely what is happening. In fact, hours ago, Middleton took to HuffPost UK to speak about a cause near and dear to her heart: mental health — more specifically, the mental health of children. Middleton's best quotes on mental health capture why it's something society needs to spend more time addressing. In her blog post on the site, the Duchess explained the importance of mental health:
For too long we have been embarrassed to admit when our children need emotional or psychiatric help, worried that the stigma associated with these problems would be detrimental to their futures.
Hence the Young Minds Matter initiative, a new Huffington Post UK series, launched today and will explore the mental health issues facing children and their parents. The aim of Young Minds Matter is simple: the program seeks to start a conversation with children "about mental and emotional health, so youngsters feel loved, valued and understood." The Duchess is acting as an ambassador of this program, and, it seems, for a good reason: as she has a lot to say on the matter. Here are four of the best quotes from Middleton's Huffington Post article.
On The Importance Of Mental Health
"The mental health of our children must be seen as every bit as important as their physical health." (Boom. Drop the mic.)
On Parental Guilt
"Research published today by the Huffington Post indicates that around a third of parents still worry that they will look like a bad mother or father if their child has a mental health problem. Parenting is hard enough without letting prejudices stop us from asking for the help we need for ourselves and our children."
On Handling Mental Health With Her Own Children
"We hope to encourage George and Charlotte to speak about their feelings, and to give them the tools and sensitivity to be supportive peers to their friends as they get older. We know there is no shame in a young child struggling with their emotions or suffering from a mental illness."
On The Roles Of Schools & The Community
"When families are short of time or money it is not always easy to know where to look for help or advice. That is why we need schools and communities to play their full role to help children who are struggling in ways that are not always easy to see."
In addition to Middleton, First Lady Michelle Obama also contributed a piece to Young Minds Matter, writing her own post on the UK site about the Duchess's efforts and the importance of mental health for all.
Young Minds Matter is important. Middleton's efforts are important. And this conversation is important because, as Middleton stated in her post on The Huffington Post UK, everyone can make an impact and everyone can make a difference:
Together, we have the chance to make a real difference for an entire generation of young children.
Middleton is slated to spend the rest of the day guest editing HuffPost UK, commissioning pieces, and working to get them published.