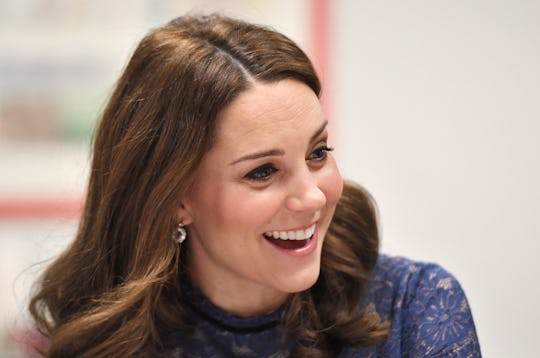 WPA Pool/Getty Images Entertainment/Getty Images
Kate Middleton's Birth Plan With Baby No. 3 Could Reportedly Include These Royal "Rules"
Saying that the royal family is unlike your average family is an understatement, because, yes, almost everything they do is a little different from what you'd do. Take, for example, Kate Middleton, who is married to Prince William. The duchess is currently pregnant with her third child and when she does give birth, things might happen a bit differently. In fact, Kate Middleton's birth plan reportedly could include some specific royal rules that common folk would likely never have to consider.
The British monarchy has been established for centuries, so there are traditions the family members must uphold, protocol for the members to follow, and rules for most things in life, including giving birth to a baby. These specific royal rules involve how the baby's birth is announced to the world and protocol for how the birthing room must be prepared, according to The Sun. There is a precedent established for who is informed about the pregnancy first (that would be the queen, of course, in addition to Middleton's family), how the baby's birth is announced to the world (by the town crier, as per protocol from medieval times), and who can be present in the birthing room (dads used to be banned), according to The Sun.
These reported "rules" might seem like a lot, but they are a little looser nowadays. Some of them might not differ from the preparations you might make for your average birthing plan or the steps you'd take to announce your pregnancy on social media.
Although it might have been a tradition many years ago for members of the royal family to give birth at home and for the father not to be present at the time, according to the New York Post, all of that changed when Prince William himself was born. In fact, Prince William was present for the birth of his first child, Prince George, and his daughter, Princess Charlotte. And for the couple's third child, Middleton and Prince William will likely veer from these rules as well with a bit of royal touch.
With Middleton's previous pregnancies, she required a hand-picked team of doctors and medical professionals to ensure a safe delivery. In fact, 23 people were on call to help deliver both of Middleton's babies in 2013 and 2016, according to People, making sure that each child would arrive into this world seamlessly, no matter when Middleton gave birth. This included two obstetricians, three midwives, three anesthesiologists, four surgical staff members, two special care staffers, four pediatricians, one lab technician, and three or four managers, according to ELLE.
But most of these reported rules are based on traditions that have been around in the royal family for decades. The queen must know about the baby's arrival first (other than the doctors and people in the delivery room with Middleton) so she can announce the news in the form of a bulletin outside of Buckingham Palace, according to NBC San Diego. This announcement is signed by doctors and includes the baby's sex and is typically "terse and formal," according to NBC San Diego.
Once it is signed, it is delivered to an official who will post the bulletin outside of Buckingham Palace. But with so many people dying to find out about the baby's arrival and the parents just wanting to spend time with their newborn, this doesn't seem like too awful of a way to announce the baby's arrival. But don't expect the baby's name to be included in this announcement — according to ABC Australia, it is also protocol for the baby's name to not be released until a week after Middleton gives birth.
In spite of all of the tradition wrapped up in Middleton's previous births, it is there for a reason — to protect the royal family. The good thing is, these royal "rules" are not too imposing on Middleton when she does give birth to her third child, which will likely happen sometime next month, and by now she's totally experienced with this protocol.
Check out Romper's new video series, Bearing The Motherload, where disagreeing parents from different sides of an issue sit down with a mediator and talk about how to support (and not judge) each other's parenting perspectives. New episodes air Mondays on Facebook.