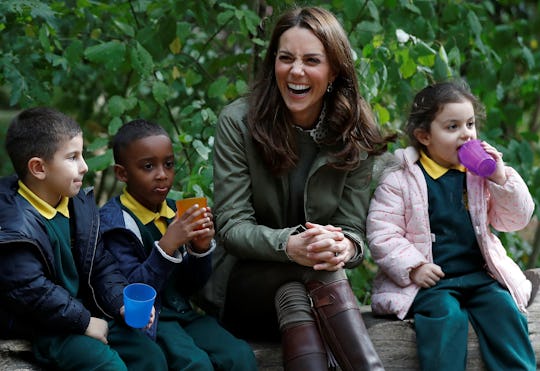 WPA Pool/Getty Images Entertainment/Getty Images
Kate Middleton Has Had These Boots For *14* Years, & Here's Where You Can Get Them
Kate Middleton is a style icon. Since she first burst onto the scene as Prince William's girlfriend, royal watchers everywhere have been glued to commentary about the Duchess' particularly well-kept fashion choices. Never one to be afraid to re-wear the same garment a few times, the gorgeous knee-high riding boots she wore visiting schools in London this morning are one of her fashion staples. These over a decade-old beauties have been spotted time and time again, and they only get better with age. If you're wondering where to get Kate Middleton's boots, you'll be pleased to know they're still being made. However, they come with a pretty steep price tag.
The boots are made by British designer Penelope Chilvers. More popular than ever, you won't be surprised to find out that these long tassel boots are frequently in low stock and high demand, like much of the clothing Kate wears. They retail for around $615 (or 4375 pounds), and that's without the added cost of international shipping. If you happen to be traveling round London any time in the near future, they are carried in her brick-and-mortar stores, so you could pick them up there. It's anyone's guess who you might have to fight off to get a pair, though.
These shoes aren't the first thing Kate's worn that simply fly off the shelves of stores across the U.K. and the world. Remember that $40 dress from Zara that she wore when out with her family that sold out in minutes? OK, so the dress was awfully cute and well priced, but I don't think Zara was ready. The best thing about that dress, or even these boots, is that Kate doesn't give a rot if she's photographed in them over and over. She's a royal, yes, and by virtue of that she has some serious coin, but she's smart enough not to look stupid about her money, especially knowing how many people are struggling. Not only that, she's a busy mom of three little ones. Who on earth has time to shop for new stuff all the time when they're busy cleaning poop off tiny booties? No one.
Beyond that, those boots, while pricey, have lasted her over 10 years, according to People. How many pairs of shoes do you have that have lasted a decade of relatively heavy wear? I have three pairs. One is a chunky boot from Coach, one is a pair of Frye 12R harness boots, and one is a pair of Ariat honest-to-goodness riding boots. None of these were inexpensive, but when you consider how many cheaper boots I've gone through since I've owned those, it evens out.
However, if you just want the look of these boots and aren't able or interested in the $600 model, there are some less pricey lookalikes available. These convertible-calf boots by LifeStride on Zappos retail for $90, and look to be pretty comfortable with plenty of give in the calf. If you're willing to spend a bit more, and a lot less on shipping, the Bed Stu Glaye boots are about $300, and will surely last you several years. Also, Bed Stu is great about fixing damaged boots should you ever need them repaired. In between these two models, and a little bit more rugged (say, if you live in an area that gets a lot of snow — London does not), are these Rieker Livs that are $165, have plenty of traction, and tons of support. Perfect balance of form and function with a decent price.
No matter how you're stepping out today, all of us can learn a thing or two about fashion from Kate Middleton — buy quality and look amazing.