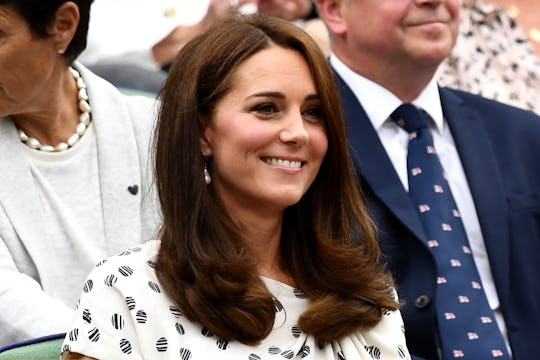 Clive Mason/Getty Images Entertainment/Getty Images
*This* Is Actually Kate Middleton's Nail Polish Color Of Choice
Kate Middleton, Duchess of Cambridge, is one of the most watched women in the world, and for good reason. She has seemingly effortless style, three adorable kids, and, oh yeah, she's a princess. So it's no wonder that every detail of her life gets the attention it does, especially when it comes to the makeup products she uses and clothes she wears. If the duchess is your style icon, you're probably wondering what Kate Middleton's favorite nail polish is, so that you can start rocking it ASAP.
Turns out the duchess doesn't wear nail polish very often. Royal rules forbid royal women from wearing brightly colored nail polish during public appearances, OK reported. Nude polish is allowed, but natural-looking nails are preferred. Diana Mather, an etiquette expert at The English Manner, told The Huffington Post that bright colors, particularly red, are seen as "vulgar." Apparently, back in the day, red polish was reserved for prostitutes, so the royals are wary of such an association, The Huffington Post reported. During most public appearances, Middleton is pictured with nails that appear to be manicured but free of polish.
For her wedding day, the Duchess of Cambridge did mix it up with a light pink color. Kate's very own manicurist, Marina Sandoval, told The Daily Mail that she mixed two off-white colors, Bourjois no 28 Rose Lounge and Essie 423 Allure, for the duchess-to-be's big day.
But for the most part, Middleton keeps her nails natural. While many women can attest to showing off new engagement rings with fresh manicures, according to Harpers Bazaar, Kate kept her nails free of polish even when she was newly engaged.
If Kate were looking for a queen-approved nail color, she need look no further then Essie's Ballet Slippers, a known favorite of her grandmother-in-law, according to Southern Living. The story goes that founder Essie Weingarten found inspiration for the color in the childhood trips to the nail salon she'd take with her mom after ballet class, Glamour reported. But the color rose to fame in 1989, when the queen's hairdresser wrote to Essie requesting Ballet Slippers, calling it "the only color Her Majesty would wear," according to Essie's website.
Of course the queen almost always wears gloves, so most of the time we can't tell whether her nails are polished anyway. The BBC reported that the queen oftentimes keeps her hands covered during appearances when she will be shaking hands with a lot of people in order to stop the spread of germs.
Upon joining the famly, it seems like Meghan Markle adopted the no-bright-colors rule. For her engagement photos, Markle took a page out of the queen's book and wore a shade of light pink polish that's most likely Ballet Slippers, Revelist reported.
Photos of her at other events suggest she wears either the minimalist shade or something similar quite often.
While a bright red manicure might be out of the question, the royals are still expected to keep their nails looking groomed. That shouldn't be hard, considering Middleton's beauty budget is reportedly estimated to be around $37,000, according to Refinery29.
If you think the rule about nail polish is strict, it's only the tip of the iceberg. The queen allegedly is not a fan of wedged heels, and while Middleton has worn them in public, she is never photographed wearing them in the presence of the queen, noted Vanity Fair.
Another realm that the queen is believed to have jurisdiction over? Wedding dresses. She reportedly approved final versions of both Kate Middleton and Meghan Markle's wedding gowns, according to Cosmopolitan. The same also shared that tiaras are only to be worn by married women, hence there are no photos of Kate rocking one before she married Duke of Cambridge, Prince William.
Turns out being a princess comes with its challenges, but honestly, I'd take a lack of manicures in exchange for that wardrobe any day.