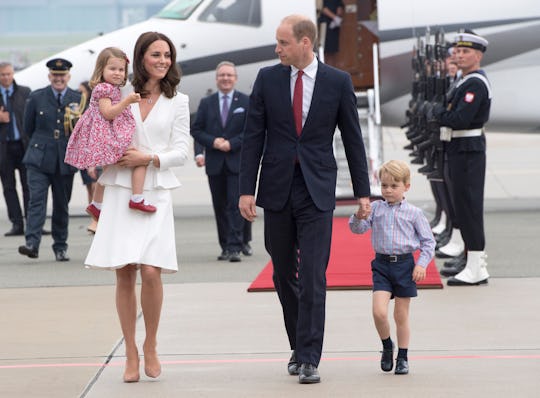 Pool/Getty Images Entertainment/Getty Images
Kate Middleton's Funniest Quotes About Motherhood Show She's Totes Prepared For #3
With April halfway over, it's only a matter of weeks — or perhaps days — that another royal baby will be gracing the world with his/her presence. That's because Prince William and Kate Middleton are expecting their third child literally anytime now. (Ahh, I can't wait!) As the United Kingdom awaits the arrival of its newest prince or princess, it's as good a time as any to reflect on the Duke and Duchess of Cambridge and their journey as parents so far. And Kate Middleton's funniest quotes about motherhood show she's totally prepared for baby number three.
As far as on-the-record quotes are concerned, Prince William is notorious for his witty candor about parenthood and his self-depreciating dad jokes. Middleton, on the other hand, is known for keeping details about her children private, as Marie Claire pointed out. However, what she has said in relation to parenthood, in my opinion, rivals Prince William's funny antics. Like that time back in July, when the duke and duchess were on a royal tour in Poland and Middleton was given a gift for a newborn while in Warsaw. When she saw the present, Middleton said to Prince Willam, "We will just have to have more babies," according to the Daily Mirror's royal correspondent, Victoria Murphy. (Ha!) Little did the world know this was actually a sign of what was yet to come.
Back in March, Middleton was visiting Evelina London Children's Hospital, where she was speaking with Jamie Parsons, the father of a 10-month-old who was receiving care there. "I was saying, 'Congratulations, best of luck with the third one.' She said, 'William's in denial,'" Parsons told People. LOL. I mean, let's face it: It's pretty much going to be zone defense (instead of man-to-man) from here on out with three kids. So it's not too surprising that Prince William might be having a difficult time wrapping his mind around a third child.
And you can bet this savvy mama knows the real reason little kids love "cooking" with mom and dad. Middleton was visiting St. Luke's Community Centre, where she was helping prepare food for its Commonwealth Big Lunch, when she shared a tiny tidbit of information with a member. "I've done that with George and Charlotte — making pizza dough," Middleton said in March, according to Hello! Magazine. "They love it because they can get their hands messy." (As a mom of three little ones, I can attest that this is pretty much all that young children are interested in doing when they're helping in the kitchen.)
Although the public doesn't often get a glimpse of Middleton's cheekier side, the duchess has frequently spoken about more serious aspects of motherhood. Like mental health, for example. In March 2017, the duchess opened about about the realities of new motherhood for the launch of an educational film series from Best Beginnings, which is a partner for her Heads Together campaign, People reported. "Personally, becoming a mother has been such a rewarding and wonderful experience. However, at times it has also been a huge challenge," Middleton said. "Even for me, who has support at home that most mothers do not. Nothing can really prepare you for the sheer, overwhelming experience of what it means to become a mother. It's full of complex emotions of joy, exhaustion, love, and worry, all mixed together." Middleton added:
There is no rule book, no right or wrong — you just have to make it up and do the very best you can to care for your family. For many mothers, myself included, this can, at times lead to lack of confidence and feelings of ignorance.
Clearly, Kate Middleton has a good sense of humor — even if she seems reluctant to fully let loose when carrying out her royal duties. (Which I totally get.) As an already-mom-of-three, I have learned that not taking yourself too seriously is crucial when it comes to juggling the needs/wants/constant snack requests of three young children. With Middleton's sense of humor combined with her practical experience, I have little doubt the transition from two to three children will be smooth when the newest royal baby arrives. Throw in a steady stream of dad jokes from Prince William, and the soon-to-be family of five is golden.