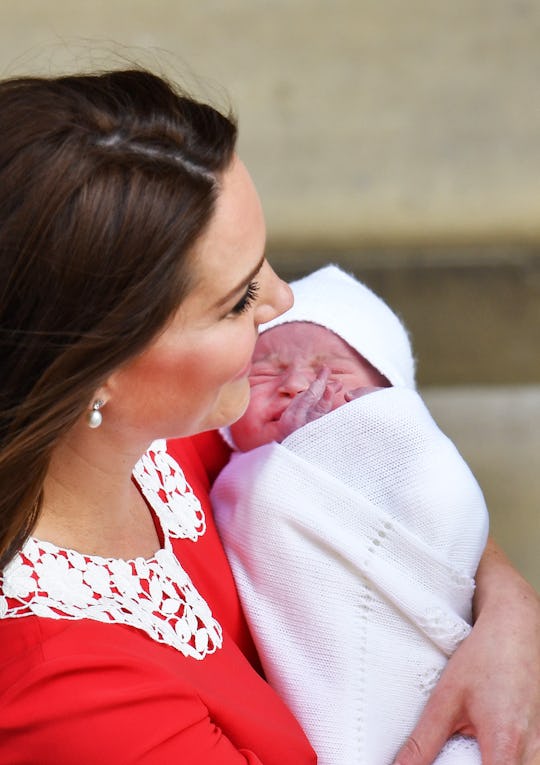 WPA Pool/Getty Images Entertainment/Getty Images
As Usual, Kate Middleton's Hair Looks *Perfect* Right After Giving Birth, Even In The Wind
The Duchess of Cambridge, Kate Middleton, inspires hair envy on a regular day, but it's amazing how together she has it immediately after giving birth. Sure, she has a hair stylist on hand to help her out, but think about pushing out a small human and all that labor pain, and then needing to clean up and look beyond your best because you are about to be photographed for millions around the world to see. The news today about the birth of the newest royal is so exciting, and it's hard not to be curious about Kate Middleton's hair after giving birth to her newest prince.
As always, there was always a lot of anticipation to see how Kate and the royal baby will look, so much so a livestream camera had been set up outside the hospital. She didn't disappoint, wearing her hair in her signature style: blown out and let down. It was windy and she kept tucking it behind her ears, but it still looked near-perfect. Can you imagine if she emerged from the hospital for the very first glimpse of the new prince and her hair was in a sloppy pony tail or looked like it had been slept on for week, like most new moms do in that first picture? She's so down to earth, it wouldn't be so surprising if she did, but I doubt The Queen would approve.
After her son Prince George's birth in 2013, she and The Duke of Cambridge, Prince William, left the hospital together, with cameras flashing. They all wore blue and it was memorable because the dress she was wearing showed her postpartum baby bump and women around the globe felt vindicated by its honesty. That said, even a little belly couldn't distract from the fact that her hair looked fabulous. It had been reported in Hollywood Life that a month before giving birth to Prince George, Kate had a $1,500 cut and color session at the Rosa Ferreti salon, which was certainly good prep for how amazing her mane looked as she left the hospital.
For Princess Charlotte's birth two years later, we got to see her just hours after the baby was born. And she looked freaking incredible, with her hair styled into gentle waves. The Telegraph reported that a sighting of Kate's hairstylist, Amanda Cook Tucker, arrive at the hospital tipped them off that the family would be leaving the hospital that day.
Kate's hair always looks good, but it probably had extra help from all the pregnancy hormones that had built up in her body. As Baby Center explained, at any given time 85 to 95 percent of your hair is growing and five to 15 percent is resting. When the hair is done resting, it falls out, usually due to brushing. However, with all the extra estrogen you make when you are pregnant, less hair falls out and your hair will feel and appear thicker. Baby Center reported some women found that their hair is much shinier during pregnancy and some even saying that it changes texture, with straight-haired women suddenly having a little curl and vise versa. Sadly, even if your pregnancy hair is your best hair ever, don't get too used to it. The effect goes away either after you give birth or after you finish breastfeeding, according to Kids Health.
Seeing Kate today after giving birth to her littlest prince brought back all of the memories of those other births and how stellar her hair looked. Once again she epitomized royal beauty and, TBH, made all moms give a little sigh of envy. Tomorrow hopefully she gets to be home in that sloppy pony and soak in all the snuggles with family.
Check out Romper's new video series, Bearing The Motherload, where disagreeing parents from different sides of an issue sit down with a mediator and talk about how to support (and not judge) each other's parenting perspectives. New episodes air Mondays on Facebook.