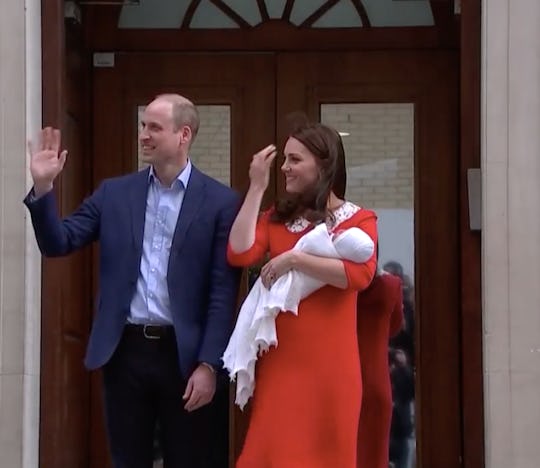 YouTube
Kate Middleton's Hair & Makeup Postpartum Was Fitting For A Champion Of Maternal Health
Having delivered three children, reportedly without pain relief, and with pretty smick-smack timing, Her Royal Highness the Duchess of Cambridge, Kate Middleton, once again submitted to the tools of her styling team, while also recovering from the birth of the newest prince. Onlookers had camped out well ahead of the April 23, 2018, delivery, knowing that she would provide yet another photo opp on the steps of the Lindo Wing of St. Mary's Hospital in Paddington, London. And they weren't disappointed. When she exited the hospital to face the cameras with her third child, Kate Middleton's hair and makeup postpartum offered fuel for the feminist-discourse pyre. Once again, she looked stunning, but once again, she offered, as a historical figure and public servant on a merciless pedestal, a nod to the challenges that all women face postpartum, with a bold, blood-red number.
Following the birth of Prince George in 2013, Kate Middleton debuted her first child while wearing a blue polkadot Jenny Packham dress, setting the bar high for births to come with flawless hair and makeup. However, the polish was undercut with the very real, very normal puff of a postpartum belly. Her appearance was double-edged in that it gave the public what it wanted — that royal glitz and something to ogle — but also sent a message to new mothers that pregnancy and childbirth are demanding, and the postpartum transition seldom easy.
This time around, she exited wearing a knee-length red dress with a lace yoke, looking fly as all getup as hoards screamed in her direction. It was a color that signaled confidence and maternal power from a woman who had grown into her role as royal and now mum-of-three. She was assisted in achieving her fresh-faced look by hairdresser Amanda Cook Tucker, per The Mirror.
Following the birth of her second child, Princess Charlotte, Kate Middleton again stepped out looking ready for a game of croquet, in a gloriously cheerful yellow floral Jenny Packham dress, with her hair curled into romantic waves. Then, as now, the image wasn't aspirational: it was a protective move to fulfill her duties, give the public what it wants, and then retire from the public eye to recover and bond with her children.
Middleton gave a powerful speech in March of this year on the maternal challenges that women face, telling the crowd at a charity event organized by a child health organization, Best Beginnings, that "Nothing can really prepare you for the sheer, overwhelming experience of what it means to become a mother. It's full of complex emotions of joy, exhaustion, love, and worry, all mixed together," as transcribed by Vogue.
One of the reasons women don't seek help is that they feel embarrassed or ashamed about their feelings of helplessness or depression or anger after birth. Women often feel obligated to put a happy face on when they are experiencing significant emotional ups and downs, and the Duchess' polished appearance is a subtle reminder of that. On the one hand, she has managed, yet again, to look "smashing" mere hours after a labor; but on the other, we know from her own words that motherhood brings unseen challenges.
Even the phrasing of the cookie-cutter birth announcement — "The Duchess of Cambridge was safely delivered of a son at 1101hrs" — has a new ring to it, in an era in which greater attention has been focused on maternal health, where in the past the delivery of a "healthy baby" was a signal to forget the mother entirely.
Given how beloved the Duchess is, it's a safe bet that no one is going to forget about the mother this time — especially not with the vision of a deep red in their memories.
Check out Romper's new video series, Bearing The Motherload, where disagreeing parents from different sides of an issue sit down with a mediator and talk about how to support (and not judge) each other's parenting perspectives. New episodes air Mondays on Facebook.