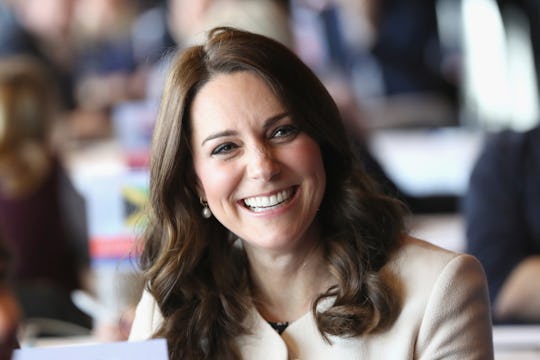 Chris Jackson/Getty Images Entertainment/Getty Images
Kate Middleton's Hospital Bag Is Reportedly Packed With Some Basic Items & A Few Surprises
It's almost time! Kate Middleton is rapidly approaching her April due date, so it's safe to say fans can expect her and Prince William's third child to arrive any day now. Like most mothers, it's been reported that she prepared for her hospital stay ahead of time, and Kate Middleton's hospital bag is reportedly packed with all the basics — plus a few surprises.
News about the royal family has dominated media over the past few weeks as they arrange for Meghan Markle and Prince Harry's May 19th wedding and the arrival of yet another royal kiddo. Middleton is already a mother to two children with Prince William. First, there's Prince George, who was born on July 22, 2013. A little over two years later, Middleton gave birth to Princess Charlotte on May 2, 2015. Because Prince William is only second in the line of succession to the British throne, after his father, Prince Charles, Prince George and Princess Charlotte are third and fourth, respectively.
With her due date so close, one might expect that Middleton's hospital bags are prepared, but it's the little trinkets she reportedly added that make it so adorable.
It's important to make older siblings feel involved in the pregnancy and birthing process, according to the Baby Corner, and royal children are no exception. One of the ways to help a child feel less stressed about the birth and mom suddenly leaving to the hospital is to let them help with packing the hospital bag, the site suggests. This allows a child to feel really connected to the process and helps them feel good by offering support.
It seems that this is a bit of advice Middleton is following with her own children. According to a source who spoke to OK! Magazine, both Prince George and Princess Charlotte gifted their with some presents ahead of her due date. The two reportedly packed some of their favorite toys into the hospital bag, which is just too cute. Anyone who has kids of their own, or has spent extensive time with children, can tell you how much it means when a small child willingly gives you their favorite toy as a token of comfort.
Middleton will also reportedly be bringing more sentimental items from her home, such as three photographs of her family, according to OK! Magazine. It seems that the photos will be full portraits, including pictures of the queen, her mom and dad, and her siblings, Pippa and James.
Middleton's bag also includes some relaxation items, like candles, aromatherapy, and a Kindle, according to Travel + Leisure. The outlet reported that Middleton will bring her favorite moisturizers for some pampering after the birth.
In the past, Middleton has reportedly always taken a royal pendant and black onyx beads for good luck in the birthing suite, according to Travel + Leisure. What's important about these items isn't necessarily the items themselves, but who they came from. "Kate actually takes a 19th century alabaster cameo pendant the Queen gave her for good luck," a source told OK! Magazine. The beads? Those were given to Middleton by her mother and she reportedly squeezes the beads for good luck, according to OK! Magazine
Given that a required step before every royal wedding is receiving the monarch's approval, it's nice to see that Middleton feels close enough to the queen to reportedly bring one of her gifts into the delivery room.
And for anyone worried about whether or not the new royal baby will throw off the current line of succession for the throne, don't fret! Middleton and Prince William have not revealed the sex of the new baby, but it doesn't matter if it's a boy or not. Thanks to a law passed in 2013, Princess Charlotte will maintain her status as fourth in line for the throne, no matter what, according to the Daily Express.
It's nice to see how Middleton's family plays a role in preparing for her birth and the world can't wait until her due date finally arrives.
Check out Romper's new video series, Bearing The Motherload, where disagreeing parents from different sides of an issue sit down with a mediator and talk about how to support (and not judge) each other's parenting perspectives. New episodes air Mondays on Facebook.