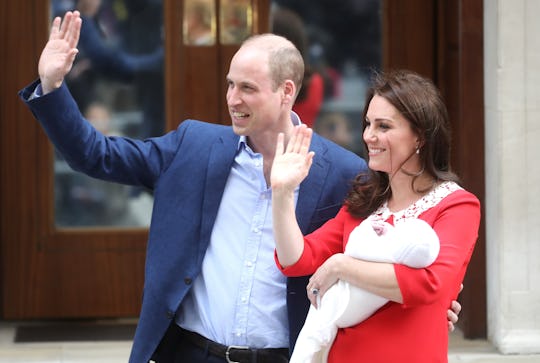 Chris Jackson/Getty Images Entertainment/Getty Images
Kate Middleton's Hospital Dresses Are A Trendsetting As The Duchess Herself
When the Duchess of Cambridge, Kate Middleton, was released from St. Mary's Hospital in West London after the birth of her third child on April 23, the world was excited to meet the new prince. Everyone loves a fresh, squishy baby, and Kate and her husband, the Duke of Cambridge, Prince William, are known for particularly adorable babies. But let's be honest: Kate is a fashion icon and many of us were also excited to get a peek at what she was wearing. So let's talk about Kate Middleton's hospital dresses, because she may not technically be a princess, but she slays like a queen.
If we may present a friendly but necessary intrusion of reality on the light-hearted fantasy of royal watching: please know that the vast majority of women do. not. look. like. this. hours after having a baby. Being the future Queen of England comes with a lot of responsibilities, yes, but also perks, including a team of stylists at your beck and call. It also doesn't hurt that Kate appears to have been graced with naturally beautiful genes and really shiny, luxurious hair. Now, disclaimer aside, let's break down the Duchess' postpartum ensembles.
Kate left the hospital on Monday afternoon with the fifth in line to the throne (after grandfather, Prince Charles, dad William, brother George, and sister Charlotte) sporting a red dress with a lace Peter Pan collar, according to Harper's Bazaar. "The dress closely mirrors the red dress Princess Diana wore when she exited the hospital after giving birth to her second son Prince Harry. It shares not only the same hue, but a white contrasting collar as well."
Kate chose dresses from British designer Jenny Packham for the debuts of Prince George in 2013 and Princess Charlotte in 2015. Known primarily for her prêt-à-porter and bridal lines, Packham has seen her clothes on a number of celebrities, including Angelina Jolie, Blake Lively, Emily Blunt, Kate Winslet, and Reese Witherspoon, among others. She also designed the gown Adele wore to the 85th Academy Awards in 2013. Middleton herself has been known to wear Packham's creations quite often, many of which are custom-made for the duchess. But having the distinction of being "by royal appointment" for such an iconic moment as the presentation of the royal babies is really what has thrust Packham into the spotlight.
After the birth of Prince George, Kate emerged from the Lindo Wing of St. Mary's sporting a pale blue polka dot dress. The choice was universally acknowledged as a nod to what Princess Diana wore as she left through the same doors with Prince William in 1982. Breezy, feminine, yet wonderfully chic, the dress conveyed not only a sentimental homage to William's deceased mother, but also managed to convey a look that was simultaneously casual yet formal. Because while it was somewhat more laid-back compared to what we're used to seeing the Duchess wear, it was nevertheless way more formal than anything us common folk would wear postpartum.
In 2015, Kate and William presented Princess Charlotte to the world. The baby wore a white blanket a pretty little cap, while Kate looked radiant in a buttercup pattern silk dress. The dress was perfect for a spring birth, and the yellow floral pattern was busier near the bust and sleeves, tapering down to more sparsely placed flowers against a white background below the waist. This is choice — white silk — was as bold as it was beautiful, considering it was worn by a newly postpartum woman.
Some may argue that it's needlessly frivolous to discuss what someone is wearing after they have a baby. And, in the grand scheme of things, sure. Yet I'd contend that the British royal family recognizes their status as bearers of tradition, and the clothes they choose to wear convey a lot of intentional meaning and symbolism. Of course, even Kate's fabulous clothes are secondary to her amazing new "accessory."
Congratulations to the Duke and Duchess of Cambridge, and to the new royal big brother and sister.
Check out Romper's new video series, Bearing The Motherload, where disagreeing parents from different sides of an issue sit down with a mediator and talk about how to support (and not judge) each other's parenting perspectives. New episodes air Mondays on Facebook.